MOVING CHECKLIST: THE ULTIMATE GUIDE
There is a lot to do when it comes to moving. That's why we have created this complete moving checklist for you to use when preparing for your upcoming relocation. Read it over, print it out, and get started. You have some work to do. Remember, if you need any help, have any questions
4 WEEKS BEFORE MOVING
Tour your house and decide which items should be discarded or donated to charity.
Consider hosting a moving sale.
Start researching moving companies and schedule an in-home moving quote.
Before you get your moving estimate, decide which items you will pack and transport and which items you would like the moving company to pack and transport.
Create a 'Moving Binder' to keep track of all of the moving information, your receipts, and an inventory of all the items you will be moving.
Call your family doctors and dentists and get copies of renewable prescriptions and request medical and dental records.
Arrange for the transfer of school records.
If you are making an international move make sure that your passport is up to date as they can take as long as 4-6 weeks to process.
Transfer medical/dental insurance records.
Check your homeowners insurance and see if moving is covered.
Transfer your fire, theft, and other personal property insurance to your new home.
If you are moving from an apartment, notify your landlord and request your deposit back.
3 WEEKS BEFORE MOVING
Be aware of the items that cannot be moved. Try to use, or give away, all of your perishable food, aerosols, bottled gasoline, and ammunition before your move date.
Notify important parties of your new address, including your employer's HR department, magazines and newspapers you subscribe to, and your credit card companies.
Begin packing the things that you use the most infrequently, such as your waffle iron, volleyball net, and golf shoes.
Notify the post office of your change of address. Remember you must do this for each person receiving mail at your home.
Take care of routine checkups for your family. It may be a while before you find a good doctor, dentist, optometrist in your new area.
If you are driving to your new home, get your car tuned up in preparation for the trip.
Separate your valuables and place them in a lock box that you will transport with you personally.
If you are doing your own packing, start buying the moving supplies you will need including boxes, packing tape, bubble wrap, and box labels.
Schedule your moving date and time.
2 WEEKS BEFORE MOVING
Return any library books, neighbors shovel, and any other things you've borrowed.
Collect the things you have loaned out, sent to the dry-cleaners, layaway, storage, and safety deposit box.
Schedule to be off work on your move out day.
Plan on how you are going to move your plants.
Take your pets to the vet and make sure that they have the proper required health certificates since each state has different regulations.
Get an appraisal of your valuable items or antiques to verify value.
Plan out meals with whatever is left in your cupboards so that you use the rest of your food and don't have to throw it away.
Send any rugs and draperies out for cleaning. Leave them in the plastic wrap upon return so they are ready to be packed up for the move.
Arrange for the connection of utilities to your new home.
Clean out your locker at the gym, bowling alley, and golf club.
If you are moving pets, ensure that you have a plan to relocate them successfully. If you need to board them or leave them with friends you should confirm this now.
1 WEEK BEFORE MOVING
Transfer your bank accounts and ask your local credit bureau to transfer your records to your new city.
Set aside any maps, games, snacks, flashlights, medicines, important papers, and anything else that you will be taking with you in your car.
Make a "clean out closet" that includes all of the things you will need for the final cleaning of your home after your items are all moved out.
Arrange for your new phone, internet, and cable services to be installed at your new home.
Make sure that all of your appliances are properly serviced for shipping.
Pack a "first night box" with everything you will need for the first night in your new home. Pack it last so it can be unpacked first.
Drain the water from all of your garden hoses, water beds and spa.
Drain gasoline and oil from all of your yard and power equipment.
Refill your prescriptions.
Make arrangements to pay your mover if you haven't already. Understand what type of payments that they will accept and bring cash if you want to tip the movers.
Cancel your security, pest control, cleaning help, lawn maintenance and any other services that you receive.
Backup your computer's memory and have a plan for checking emails while in transit.
Arrange for your satellite dish or cable disconnection.
Contact your moving company to confirm your moving arrangements.
Encourage your children to make an address book of friends.
1 DAY BEFORE MOVING
Put non-combustible cleaning supplies, toiletries, and other items you will need first in special boxes to be loaded last and unloaded first.
Defrost, clean, and dry refrigerator and freezer.
Dispose of any remaining flammables, fireworks, cleaning fluids, matches, ammunition, poisons, or anything else listed on the non-allowable list.
Visit the ATM and get enough cash to tide you over.
Clearly label, and be sure to point out, any extra fragile items that may need special care.
Give your new contact information to friends, family, and important businesses.
Gather all keys, alarm codes, and garage door openers and place them into a folder so you are prepared to hand them to the new owner or real estate agent.
Pack pet food and pet litter.
Unplug all electrical devices so that they are at room temperature when it comes time for the move.
Notify the police in your town if your old home will be uninhabited for a long period of time.
Mow your lawn one last time, especially if the house will not be occupied quickly.
Leave a note for the new occupants with your new address so that they can forward any mail that happens to come for you after you're gone.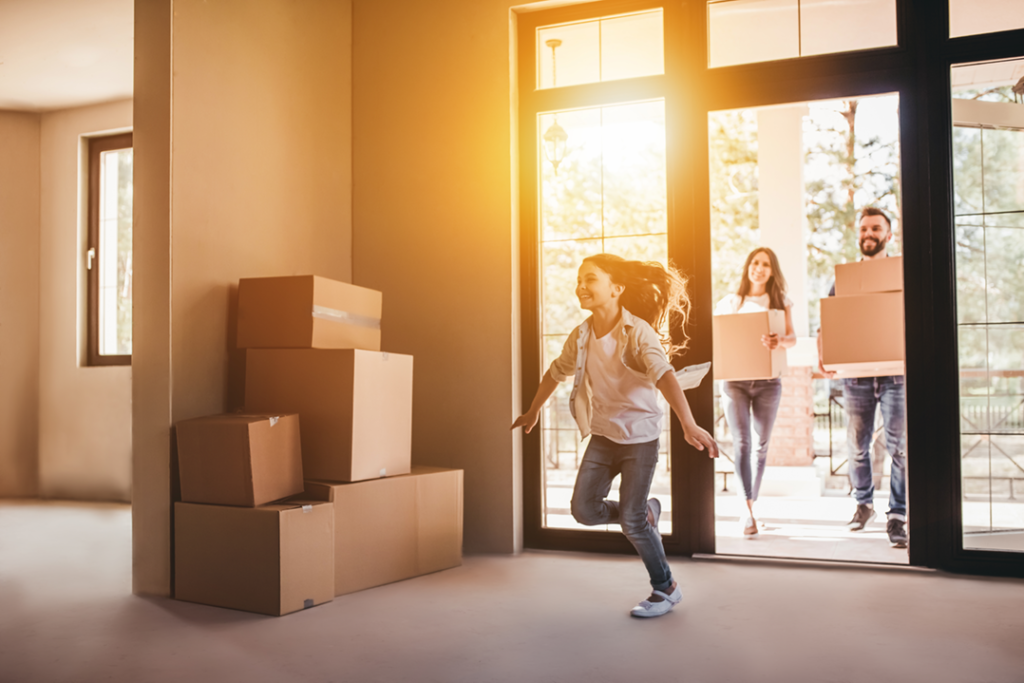 Moving advice
Whether there's a family, professional or personal reason for a move, it can be challenging. That's why it's a good idea to take the necessary steps to ease stress and protect your property during the moving process. In a good move, all of the bases are covered. From the minute your belongings leave your home until they arrive at their destination, all of the necessary moving expertise, along with insurance and worker protection, is in place. You'll have peace of mind and know that you got value for money and quality customer service. No surprises, no extra fees, no losses and no missed deadlines.
Choose a reputable mover
Choosing a reputable moving company is the first—and probably most important—step in the moving process. Seek a mover with reliable evidence of great customer service, truth in advertising and sound business practices.
When shopping around for a mover, it's important to:
get estimates from at least three reputable movers
check references and find out if the mover has been certified
find out how the company will manage your move and protect your property
read the mover's website content and printed information carefully
find out if they have a local presence and can be found in the event of a problem
Find out if the mover uses a subcontractor
Check if the company has their own equipment or whether they will use a subcontractor or another company to provide the service. If so, make sure you have information about their certification and track record. Determine if the mover is responsible for all services from end to end—including those provided by subcontractors
Get a quote in writing from the mover
Before you commit, get the costs, as well as terms and conditions, of your move in writing.
You should also:
make sure that the mover sees all items that must be moved while preparing the quote
give the mover all of the information they need for your quote (e.g., existing and future addresses, and a list of obstacles, like stairs or escalators, that may require special navigation)
ask about additional costs you may incur if you need to add items on the day of the move
get the quote on a company letterhead and signed by a company representative
check that the quote includes the number of boxes to be moved, the size and value of items, the costing (by hour, flat rate, or by weight), terms of payment, and the timing of services
make sure the quote includes commitments about the delivery date and special care items
ask if you must pay a deposit up front and if it is refundable or held as a penalty to cover the costs for cancellation
verify the form of payment the mover will accept and if any fees or deposits are payable upfront
a mover can legally ask for payment in advance of delivery. In most situations, this payment will not exceed the estimate by more than 10%
look over the quote carefully and make sure you understand all of the details—including the final cost as well as the terms and conditions
Moving Guide
Moving is a very overwhelming and daunting event. Whether you are moving with us or have made other arrangements developed a Moving Guide that can be accessed at any time on your mobile device to answer questions and guide you through the moving process.
extensively trains every mover to conduct your move with care. Our uniformed moving team will arrive promptly in a clean, well-equipped truck. We also communicate throughout the day to ensure that your step is a success.
MORNING ARRIVAL​
If you have scheduled your move for the morning, your move team typically arrives at your first location between 8:00 AM to 8:30 AM unless you have arranged particular start time. The moving crew will give you between 30 minutes and one hour of notice before arrival.
AFTERNOON ARRIVAL
Afternoon moves typically start between 11:00 AM and 4:00 PM. If you've arranged your move for the afternoon, the team will contact you on the day of the plan to let you know when they will arrive. Again, the moving crew will give you between 30 minutes and one hour of notice before arrival.
ARRIVAL PROCEDURES
Upon arriving at your first location, your team will introduce themselves and then get the lay of the land completing a walkthrough. There are specific steps that the team must complete while protecting your property, and the team is accountable for these steps. At the end of the walkthrough, you will sign off to confirm that your designated moving team has completed all the steps. After this process is complete, the team will position the truck or trailer and start moving items.
SERVICE PROCEDURES
Throughout the day, we will ask you to sign off each phase of your move, indicating that you are satisfied with your team's performance. Also, if there are any Change Orders or Waivers discovered by the moving crew, they will communicate this discovery before taking any action without permission. (see Change Orders and Waivers) The Team Leader will enter the arrival, departure, and break times in our app.
The Ultimate Moving Checklist
Reduce your stress by planning ahead
It's no surprise that the entire process of moving contains a lot of stress. There are so many details to manage from the day you decide to look for a new place until that final box gets unpacked.
Staying organized and positive can help ease you through each step, but you'll most likely feel pressure from the amount of time and money you'll invest in the move. This is why it's important to go into your move prepared for what's ahead. Keep track of everything that has to get done to help you avoid any costly moving mistakes.
What are your moving options?
Those who are moving usually do it themselves, have full-service movers or a hybrid of the two. Each variation will require a different amount of energy, money, time and attention to detail.
Do-it-yourself move
This version is usually the cheapest option but can be more time-consuming. You rent your own truck or borrow a friend's. You pack it up and drive yourself to your new home. Once you get to the new place, you unload and unpack your belongings.
Hiring movers
If you decide to hire movers, they will be responsible for packing the truck, driving to the new location and unpacking your belongings. This makes your move easier and quicker but can end up costing more.
Hybrid move
If you'd like an option that's in between, you can hire help to just load and unload your truck. This hybrid option will be a medium price while still being efficient.
HOW TO MOVE GUIDES
Every day is moving day for Atlas. As your family gets ready to go new places, Atlas is ready with the know-how and tools to move you safely and easily. The packers and movers bring best practices to ensure your belongings travel safely as well.
Gather your Supplies.
Select an area large enough to handle your biggest boxes (Where can you get boxes for moving? Your can provide them!).
A strong table with a protective cover offers a good work surface. (We don't recommend using your good dining room table.) Have your markers, tape and scissors nearby. Spread a generous amount of neatly stacked packing paper flat on your table.
Pack Room by Room.
Pack a couple of boxes a day, starting well ahead of the move. Pack one room at a time; this will make it easier to stay organized.
Label Everything.
Mark all boxes with room and a box number. Record these in a box identification log that shows the number of boxes packed per room and the total number of boxes packed
Fill Boxes Safely.
Use plenty of filling material in boxes; when in doubt, use more.
Improper packing is the most common cause of breakage and damage during moving.
Check Box Bottoms.
Make sure bottoms of boxes are secured and will hold the weight of the contents.
Keep it under 50 lbs.
Pack heavier items toward the bottom of the box and lighter items toward the top.
Do not exceed 50 pounds per box; it makes moving them a lot easier.
Remember: the heavier the item, the smaller the box you should use.