Electrical Installations & Maintenance
Before carrying out a commercial electrical installation, Mr. Electric takes the time to understand what a client is looking for. Depending on a company's needs, this could range from a full electrical installation for a new commercial property to a partial rewiring of your current premises – if you are planning to extend or renovate, for example.
Once we have this information, we'll put a design brief and quote together, so you can get a better understanding of the work involved and how much it will cost. While some parts of the installation will be essential, others won't be. This means we can tailor your electrical installation to the unique needs of your business. Every aspect of the installation will have a fixed cost, saving you from any nasty surprises once the work is completed.
As a NICEIC Approved Contractor, you can rely on Mr. Electric to provide a first-class electrical service. All our electricians are trained to the very highest standard and always ensure that any electrical work complies with the latest safety regulations, including Part 'P' of the Building Regulations, the Electricity Supply Regulations and the Electricity at Work Regulations.
Electrical Installation Certificate
Upon completion of an electrical installation, addition or alteration, Mr. Electric will provide you with a certificate declaring that it meets the appropriate safety standards. This will either be an Electrical Installation Certificate (EIC) or a Minor Electrical Installation Works Certificate (MEIWC).
Ongoing Electrical Maintenance
As an employer, it's your responsibility to protect the health and safety of your employees. For that reason, you'll need to ensure that your electrical installations are kept in good working order.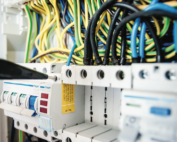 Commercial Electrical Maintenance Plans
Just like your HVAC system or plumbing, your electrical system needs periodic attention to maintain safety and reliability. Most everyone expects to flip the switch and see the lights come on. It is also a common expectation for the electrical systems in the house to last forever. Realistically, over time certain electrical components in a home can suffer just as much wear as plumbing or HVAC equipment. The contacts in light switches and receptacles can wear causing less than true connections. This can cause inconvenient flickering or blinking of lights or worse, overheating or arching which could be a potential fire hazard. Also, wiring heats up and cools down constantly as electrical components are turned on and off. This can lead to terminals on circuit breakers loosening due to expansion and contraction of the wire. This increases resistance and can cause wires to overheat. Since 1969, Peaden has been the trusted service contractor of choice for thousands of Northwest Florida Consumers. Over the past few years, our reputation and popularity as full service electrical contractor has grown in a similar fashion.
WHY INVEST IN AN ELECTRICAL MAINTENANCE PLAN
The U.S. Fire Administration has advised that over $800 million in property damage are related to electrical fires. They go on to say that 33 percent of these are due to bad wiring that has aged or was substandard to start with. A Peaden EMP can help avoid these kinds of inconveniences and dangers by providing you a fixed price electrical system inspection and tune-up. We will inspect the main service entrance equipment, inspect all of the sub-panels, load test the existing circuits check for proper over-current protection of connected load, tighten all terminals and insure proper operation of ground fault devices.
ELECTRICAL SYSTEM ITEMS INSPECTED
Examination of main service entrance equipment
Check of main service entrance connections
Inspection of sub panels
Load test of existing circuits
Check for proper current protection
Ensure proper operation of all GFIC and AFCI devices
Test function of smoke detectors
Test function of carbon monoxide detectors
Visually inspect receptacles and switches
Inspect cold water ground and ground rod
Visually inspect disconnect and check terminations
BUSINESS PARTNERSHIP
Peaden aspires to build a lasting partnership with you and your facility. Peaden's commitment is unlike any of our competitors. In becoming your partner, we will help you establish financial, energy, and environmental goals. Our experienced electricians will examine your electrical system to evaluate and understand how well your system will perform in the future. Our electricians are trained to look for unusual and odd circumstances that might be telling signs of a problem on the horizon. We are determined to become a fiduciary asset to you and your business
COMMERCIAL MAINTENANCE PLAN ADVANTAGES
Evaluation of the Electrical System
Equipment Longevity
Maintain Manufacturer's Warranty
Priority Service Call Response
Reduce System Breakdowns
3 Year Inflation Protection
15% Discount on Flat Rate Repairs
No Overtime Charges Ever
Are you searching for a reliable electrician?
We're not like other electricians
Electricians Today has over 40 years electrical experience in every electrical service from household fit outs, safety audits and repairs to commercial contracts for Melbourne's largest builders. Every project, big or small, gets the same attention to detail and high quality service. In fact, our professionals are handpicked for their expertise, reliability and problem-solving skills, and we carefully match the right electrician to your project. You can rest assured knowing that you'll get a range of options to consider and each option will be great value for money. No empty promises. No inflated quotes. We want your building to be safer and your electricity usage cost effective.Take a look at some of our recent projects and see our services in action. Submit an online enquiry or give us a call on 1800 981 993 to discover how we can help you.
guarantee it
Enjoy the peace of mind of knowing you've hired a skilled professional who will provide great service and great value. All our technicians are certified, licensed and insured for both expert electrical work and safety. We only work with high quality parts and all our work is covered by a 2 year warranty.
Don't need an electrician right now?
If you're not ready to choose an electrician or electrical services provider just yet, contact us to get a copy of our brochure sent to you. It covers the electrical services we offer around Melbourne and why Electricians Today is the right choice for your project.
Winter Home Maintenance Tips
If you want to avoid costly repairs, make sure that your home is ready for the winter. But isn't always easy to know what you can do now to help prepare and protect your property from the cold weather.
Check Your Gutters and Drainage
With winter comes increased rainfall, so you want to be ready. While cleaning out the gutter isn't a fun job, it can save you money in the long run. Well maintained gutters can reduce the need to replace them, and the chance of roof damage.
Test Your Sump Pump
Sump pumps act as the last line of defense against condensation buildup, floods, and water from drains. Test the pump before winter hits. You want to make sure it works; otherwise, you could end up with a flooded basement and foundation damage.
Check Your Window Wells
Window wells are a great way to let natural light into your basement and provide ventilation. They also help keep soil away from the window fixtures. But if they are not maintained well, they can put your basement at risk.
Clean Your Dryer Vents
As the colder months set in, your dryer is likely to get more use. Dyers can be a fire hazard, causing over 15,000 fires each year, so it is important to reduce this risk.
Electric: Wired To Work
The Hidden Dangers of Putting Off Electrical Work at Your Property
As we are considering the health of our residents first, ignoring lingering electrical issues can create great dangers. In fact, hiring essential workers like plumbers and electricians, are very low risk of spreading germs.
Why It's a Smart Idea To Have A Smart Doorbell Installed By An Electrician
In lieu of installing security cameras, more and more Maryland residents are opting for smart doorbells. Two of the most popular variety are Nest and Ring doorbells
Replacing Smoke Detectors – Outdated smoke detectors, or not having smoke detectors with carbon monoxide detectors is not only unsafe, it is illegal. Make sure your property is up to date with 10 year, hardwired dual protection units. Smoke detectors and carbon monoxide detectors save lives. Period.
Pool and Hot Tub Wiring – Preparation is key for fun in the sun, and no one wants to call for an emergency electrician on a Saturday evening! Make sure your property is wired to work well this summer, and perform electrical inspections by a licensed electrician.
Panel Inspections and Upgrades – With more people with home offices set up, more resident chefs with restaurants closed, electrical consumption is increased. If your residents are experiencing circuits tripping, or lights flickering, you might need to have the panels inspected, STAT.