Selecting the Right Circuit Breaker
A circuit breaker, to most design engineers, is thought of as a low-cost commodity component that usually doesn't get much attention when designing a new piece of equipment or system. In fact, on many occasions I have heard someone say, "It doesn't matter; I just need a circuit breaker." Yet a circuit breaker is an extremely important system component, and should not be handled in such a cavalier fashion. They are used to protect valuable equipment or devices from damage or more importantly they are used to prevent a life-threatening system disaster such as fire. It is important to take the time and make sure that the circuit breaker you are selecting is not only the right type for your application but it is also of high quality.
Today, there are many circuit breaker choices to fit virtually any industrial DIN rail application. However, even with so many choices available, selecting the proper circuit breaker can be an easy task
DIN rail circuit breakers are available in different package configurations ranging from a high-density space-saving size of 13mm per pole to 26mm per pole for a high-current type. Over the last few years, the price of a high quality circuit breaker has dropped below $10.00 per pole. This transition has allowed many more DIN rail mount circuit breakers to be used in place of fuses and fuse holders. In addition to being a cost savings, the circuit breaker is much more convenient; when a fuse blows, it has to be replaced by a new one; when a circuit breaker trips, it simply has to be reset.
Supplementary Protection
Supplementary circuit breakers, often referred to as UL1077 circuit breakers, are protectors that are typically used to provide protection to a device. Usually a branch UL489 circuit breaker is already installed up stream of the supplementary circuit breakers to protect the circuit wiring. Most supplementary circuit breakers are available in one, two and three poles with the option of short (B), medium (C) and long (D) trip curves. They typically can handle a minimum rating of 1A and a maximum amp rating of 63A. For convenience and ease of use the circuit breakers selected should have a reliable wire connection and have an on/off indicator to minimize troubleshooting time.
DC Protection
The DC circuit breakers are used in applications to provide protection where direct current or DC voltage is used. DC circuit breakers are available in both UL1077 and UL489 versions. Generally the DC circuit breakers are available in one or two poles with the short (B) or medium (C) trip curves. They are available with current ratings ranging from 1 to 63 Amps.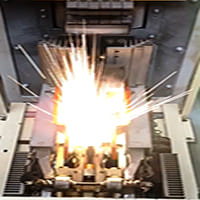 How to Determine Amperage of Circuit Breaker
Each circuit breaker has a specific rated amperage, or amount of current. When that amperage is exceeded, the circuit breaker shuts down the flow of current in that circuit to prevent damage to the wiring and appliances. Learn how to calculate the actual amperage of devices on the circuit and compare it to the rated amperage, so you can avoid unnecessary power interruptions and fire hazards.
Examine the electric panel. Each circuit breaker should have its amperage marked on the handle. This is the maximum amperage that the circuit can take before the circuit breaker trips
Multiply the amperage by 0.8. For everyday use, it's a good idea to expose the breaker to a maximum of 80% of the rated amperage. It's fine to exceed this for short periods of time, but continuous current above this amount could cause enough heat to trip the breaker
Understand double-pole breakers. Some high-voltage devices may be wired to a double-pole circuit breaker — two standard circuit breakers sharing a handle. Do not add together the amperage of the two breakers. Both circuits will be tripped simultaneously by the amperage displayed on one circuit breaker handle
Compare this to the current on the circuit. Now you know how much amperage your wiring and circuit breaker can handle. To find out whether your circuit exceeds this amperage, continue to the next method
Choosing the Right Circuit Breaker
Determine the Circuit Breaker Type
First, you need to determine whether you need a standard breaker, a Ground Fault Circuit Interrupter (GFCI), or an Arc Fault Circuit Interrupter (AFCI).
Identify the Manufacturer and Brand of the Breaker and Panel
Not all circuit breakers are interchangeable. The panel label will list acceptable breakers, and if not (or if it's too worn to read), check the other breakers or call in an expert. Older Westinghouse circuit breakers are quite different from modern Siemens circuit breakers, for example.
Check the Electrical Specifications
Next, you will need to find out a range of specs. If you are replacing an old breaker, you'll find all the info you need on the unit itself
When you're trying to determine amperage, but you do not have an old circuit breaker for comparison, you can use the wire gauge to guide your decision. You'll find the gauge printed on the wire that will connect to the new breaker. The lower the gauge, the higher the breaker amperage. For example, a 10-gauge wire will need a 30-amp breaker, while a 14-gauge wire requires a 15-amp unit.
Confirm Any Special Requirements
For developers or contractors, you may need to fulfill certain special requirements for specific codes, localities, or client preferences. For example, you may need to use only new circuit breakers as opposed to reconditioned circuit breakers, you may need high vibration specifications for industrial facilities, or you may need to choose between a manual or automatic reset.
TIPS TO CHOOSE THE RIGHT CIRCUIT BREAKERS FOR YOUR HOME
A home electrical system is fitted with safety features such as circuit breakers, switching devices that are either automatically or manually controlled to protect your power system. If you do not have an electrical circuit breaker you are open to a high risk of electrical shocks, electrocution and electrical fires. Ask your local electrician on The Gold Coast to check your home electrical system to ensure it's safe.
Main circuit breaker panel
Your electricity supply comes from your utility company and is fed through a meter to determine the amount of power you use and work out your power bill. It then goes to your breaker panel. Your electrician on the Gold Coast will help you chose the right size breaker panel to suit your home and the number of circuits you require.
Choosing the number of breaker switches required
You will need a breaker switch for every circuit of wiring around your home. Normally the different circuits are divided into areas and usage. There would be at least one internal lighting circuit and one external circuit.
Deciding on the amperage capacity of each circuit breaker
Most circuit breaker panels used in homes are rated to take 100 to 150 amps. The individual breaker switches are rated for the maximum amount of amperage they will be expected to handle at one time. Consult your electrician on The Gold Coast to determine the ratings required for each circuit or check each appliance. They will have a panel that gives their capacity and amp usage. It's important to understand that often when some appliances start, they required much more power than when running. For example fridges, freezers, appliances with motors and even florescent lights use more power when starting to give an initial boost
Consider the types of breaker switches required
Single pole circuit breakers are normally used for lighting with ratings of between 10 to 20 amps. Double pole circuit breakers are used for water heaters and heavy duty appliances.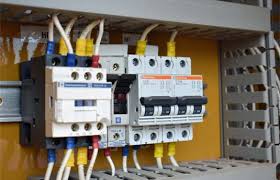 Selecting the Right Circuit Breaker and Its Type
A circuit breaker operates under fault conditions and isolates the faulty part of the circuit from the rest of it by breaking the circuit. This operation is performed automatically by employing a relay along with the circuit breaker.
It should be noted that circuit breakers may also be manually operated and can also be operated under normal conditions. Hence circuit breakers are also useful switching devices that are used to make or break a circuit in normal conditions.
Working Mechanism:
​In a general sense, a circuit breaker consists of two electrodes or contacts that under normal conditions remain in contact with each other allowing current to flow. But in case of a fault, the contacts open or become disconnected hence breaking the circuit and preventing the fault current from passing through
Arc Phenomena:
​Whenever a short circuit fault occurs, an extremely high current passes through the contacts of the circuit breakers. When these contacts start to open, the area of contact decreases and the current intensity increases rapidly. This causes the surrounding material to heat up rapidly and ionize. This ionized medium thus acts as a path for current to flow delaying the breaking of the circuit path.
Arc Extinction Methods:
This arc needs to be eliminated for the successful isolation and breaking of the circuit. Therefore, it is a major factor in determining the type and size of the circuit breaker to be used in different applications. For this purpose, we have two methods for arc extinction