THE AUTHORITY OF THE ELECTRICAL INSPECTOR
All electrical inspectors have authority. The question is, How do they use it? Is it about their ego or about the work and safety for the customer?
Authority is needed in society to establish order; otherwise, there is chaos. Inspectors have authority for a purpose: to protect people and property. Some inspectors have misused their authority. That's not what inspecting is about. Every electrical wireman or installer can recall from personal experience an inspector that in his view was unreasonable, unapproachable, or seemed to abuse his or her authority. Hopefully, they can also recall an electrical inspector who was professional and who possessed great experience and education, as well as good people skills, that they enjoyed working with; maybe, they even learned something from that inspector! Being this kind of professional should be the goal of every inspector.
All authority has its limits; everyone answers to someone. In order to have authority, one must be under authority. If a person gets out from under the authority, he may soon wind up with no authority and in trouble. Inspectors must follow the instructions of inspection supervisors, and work with them and the customers toward the goal of electrical safety. It would be nice if inspections always fit neatly in a box, but often they do not. How does the inspector deal with the situations when they do not? Existing installations can be an example of that.
Attitude
In inspecting, as in life, attitude is everything. Inspectors must be able to maintain a good attitude, even under stress and with difficult customers. Are the people whose jobs they inspect or whose questions they answer viewed as customers or inconveniences? What is the attitude of the inspector when he is speaking with customers on the telephone or in person? Is the inspector generally happy and positive, or is he negative and sulky? Would the inspector want to be treated in the same manner if the "shoe were on the other foot"? Most inspectors work for public agencies, and nearly all work with the public. If they are having trouble keeping a good attitude, they must seek help.
Influence
Electrical inspectors are seen as authorities on the Code. If they handle themselves in a professional manner, people will respect and look up to them. That brings with it the power of influence, which can be wasted or used for good to help and serve others. Whether inspectors realize it or not, they have a huge influence in the lives of others. One way is through praising workers for doing a good job. Since most electrical inspectors worked "with the tools" before becoming inspectors, they remember important things such as pride in workmanship or fine craftsmanship, and the fulfillment of producing work that a person can be proud of. Inspectors can influence those whose work they inspect by giving sincere praise for a job well done. It will be appreciated by the workers, and it will encourage them all the more to do fine work. Everyone likes to receive a sincere compliment on a quality installation, but most people receive little or no encouragement. However, if the inspector is truly sincere, it will be seen, and the compliment will be received.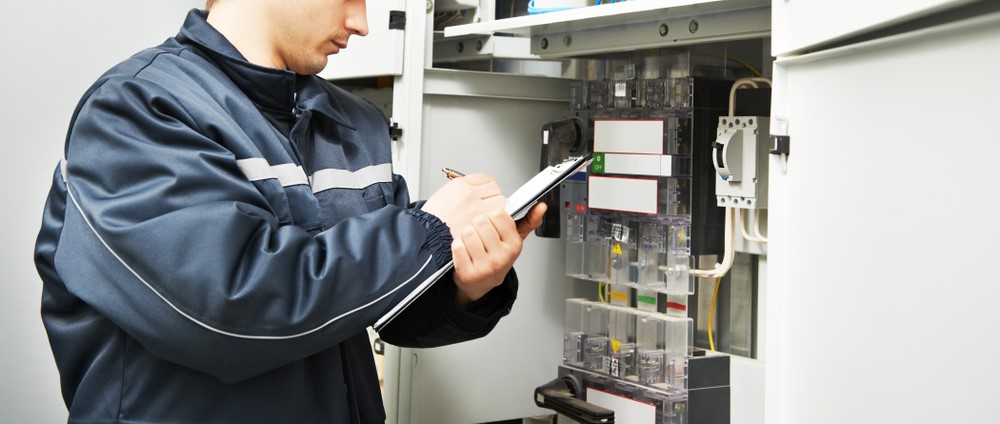 ELECTRICAL SAFETY INSPECTIONS
Electricity is a wonderful thing; it allows us to heat and cool our homes, store our food, wash our clothes, and enjoy television and entertainment within our houses. We rely on electricity to be readily available to us whenever we need it, and it rarely crosses our minds that we may need to inspect or maintain electrical wiring for safety concerns
Signs You Need An Electrical Inspection
Did you know that electrical fires are responsible for over 13% of home fires? To put things into perspective, that accounts for over 51,000 fires every year occurring due to electrical distribution alone. Unfortunately, homeowners may oftentimes not be aware of the potential electrical dangers that they are surrounded by in their very own homes. For this reason, electrical inspections are critical for the safety of homeowners and their families. Below are a few signs that you should look out for. If you run into any of these sings, make sure to not ignore them and schedule an electrical inspection for your home as soon as possible, to prevent potential dangers and damages.
FLICKERING LIGHTS
Flickering lights are one of the most major signs to look out for when it comes to electrical safety. If you notice that your light bulbs are flickering, it usually means that there is an issue that has to do with other appliances attached to the same circuit. Certain appliances will need a certain amount of power to function. Such appliances are thus using more energy to work, and multiple heavy-duty appliances attached to the same circuit could be problematic and potentially dangerous. An electrical expert will be able to spot such issues and resolve them by attaching appliances to different circuits, to ensure the safety of you and your family.
SPARKS
Sparks from your home's electrical system are never a good sign. This is a serious fire hazard – if you notice sparks from your home outlets or fuse boxes you should call an electrical expert straight away.
BURNING SMELL
If you notice a burning smell coming from any of your home's electrical outlets of fuse boxes, it is a sign that you need an electrical inspection to ensure your safety. In such scenarios, we strongly advise you to stop using the power and call an electrical expert to take a inspect the situation.
Hiring a Home Inspector
It is often said that one of the most expensive and important purchases you will ever make will be your home. However, unlike the guarantee a buyer receives with most purchases, there's no money-back guarantee or return policy if you're not satisfied with your recently purchased home. Once you buy a home, you're on your own to maintain it, repair it, anticipate problems and pay the bills. This is why it's best to know as much as you can about potential problems before you buy.
What Home Inspectors Do
One of the best ways to see if a home is in good condition, livable and safe is to hire a professional home inspector. A properly trained home inspector will review your house as a system, looking at how one component of the house might affect how another component works or how long it will last. Home inspectors will go through the house and perform a complete visual inspection to assess its condition and all of its systems. They will determine the components that are not performing properly as well as items that are beyond their useful life or are unsafe. They will also identify areas where repairs may be needed or where there may have been problems in the past. Inspections are intended to help homebuyers better understand the condition of the house, as observed at the time of the inspection.
A pre-purchase inspection for a 165 to 205 m² (1,800 to 2,200 sq. ft.) home typically takes about three hours and costs around $500 (price may vary by province). Following the inspection, the buyer is presented with a written report, including all the details of the inspection. The home inspector should be willing to answer any questions a buyer might have and to clarify the limitations of the inspection to avoid misunderstandings.
Scope of the Inspection
A home inspection is intended to provide information about the condition of the home's systems and components at the time of the inspection. An inspection will help you make an informed purchase decision. The home inspector will do a visual inspection by looking at the home's various systems, including interior and exterior components. The inspector will check exterior components including roofing, flashing, chimneys, gutters, downspouts, wall surfaces, windows, doors, the foundation and the grading around it.
Note that, if the inspection takes place in the winter, the roof and the foundation may not be fully visible for inspection if they are covered with snow and ice. For safety and insurance reasons, the home inspector would not typically climb up on a roof covered with snow or ice. However, the home inspector will inspect the roof from the ground or other vantage point. This also applies to the chimney and downspouts
Electrical Permits – Residential
Work Limitations
Due to hazards involved, homeowners who are not certified master electricians cannot do work on the following :
Installing or relocating the main electrical service panel or service equipment
Installing swimming pool grounding and connecting the electrical equipment for a permanently installed swimming pool
A solar photo-voltaic (PV) system
If the home will be used for rental purposes
Inspection Information
A Homeowners Permit with an installation value (material only) of $1500 or less entitles the owner to one rough-in inspection. An installation value (material only) of more than $1500 will entitle the owner to two inspections, a rough-in and a final
Rough-in Wiring Inspection
All electrical outlet boxes are to be mounted and secured in place
All wiring has been installed, secured and brought into outlet boxes
All ground conductors have been terminated to the outlet box and necessary splices completed
All recessed lighting fixtures are installed and secured (except retrofit type fixtures) and wiring terminated in fixture junction box
You may install wiring in the main or sub panel (Caution: turn off main breaker before taking off panel cover and while installing wiring); do not connect wiring to branch circuit breakers at this time
Ensure all new wiring is isolated from all points that may become energized and re-install panel cover prior to turning on main breaker
Do not install any devices (receptacles, light fixtures) except those that may be needed for construction purposes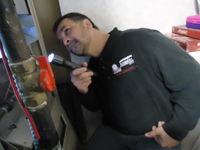 Electrical Inspections
Keep your Home Safe and Efficient with an Electrical Inspection!
Up To Code for Expansions & Renovations
A professional electrical inspection is a vital part of obtaining a code certification for any new construction, renovation, or expansion to your home. Our experienced electricians will conduct their inspection and are qualified by the state, as part of their certification process, to sign off on building code compliance for your electrical wiring
Quick and Efficient Service
While there is no way to guarantee the amount of time it will take to inspect your home, our electricians are experts in wiring, and can efficiently and comprehensively assess your home
Excellent Service Record
The choice for electrical inspection services, due in large part to our excellent service record and competitive pricing. We have a policy of no job being too large or too small, and provide comprehensive yet easy to understand reports for you at the end of our electrical inspection services.
Make sure your Home is running Efficiently
we electricians would be happy to inspect your current wiring, including performing connectivity and resistance checks between outlets, testing your circuit breaker panel for functionality, and generally giving your home an electrical checkup. If any issues are found, our experts will explain to you exactly what they found during the inspection and the best course of action to either repair, replace, or rectify any such issues