Steps to Choose the Best Painter for Your House
Colours speak volumes about a person. More so when it's for your house. Choosing the best colour code for your room or house is as important and painstaking as building the house itself. However, it's not so tough either. It all starts with finding out the best painter or contractor for residential painting. In this article, we look at the ways in which you can choose the best painter for painting your house
Meet Multiple Contractors
The big hoarding of a smiling painter in your neighbourhood might not necessarily be the best for you. Try to call in at least three reputable contractors and allow them to inspect your house. The more time the contractor spends in moving around the house and briefing you, the better bonding your house will have with the painter. As an added advantage, you might gain some expert knowledge about painting a house and may act as a source of information for your friends and relatives.
Negotiate Early
Trust is important for getting a job done. But when trust overpowers, relationships sour. Often, contractors bid low to earn your trust, and midway to the project increases the turnaround time and cost. As a customer, you must make your expectations clear, and also responsibility in case of an exigency.
Acquaint Yourself with Paint Types
It's true that an experienced contractor would ideally brief you with the best paint options, but, as a customer, knowing the basics of paint can make you stay one step ahead. Paint can be either latex or oil-based. Latex paint is washable and tends to last longer than oil-based paint. However, oil-based paint gives a brighter visual appeal to wooden textures. Polish or sheen is the next matter of consideration.
Get a Formal Contract Letter
An official contract letter saves you from unnecessary harassment in case anything goes wrong. A contract letter should clearly state the total cost, inclusions and exclusions in the paintwork, and all pertinent details of the contractor, like name, office and residence address, phone numbers, and license number. If possible, get a copy of the contractor's insurance policy. It would save you from legal trouble in case a neighbour's property gets damaged, or the painter gets hurt, due to an accident.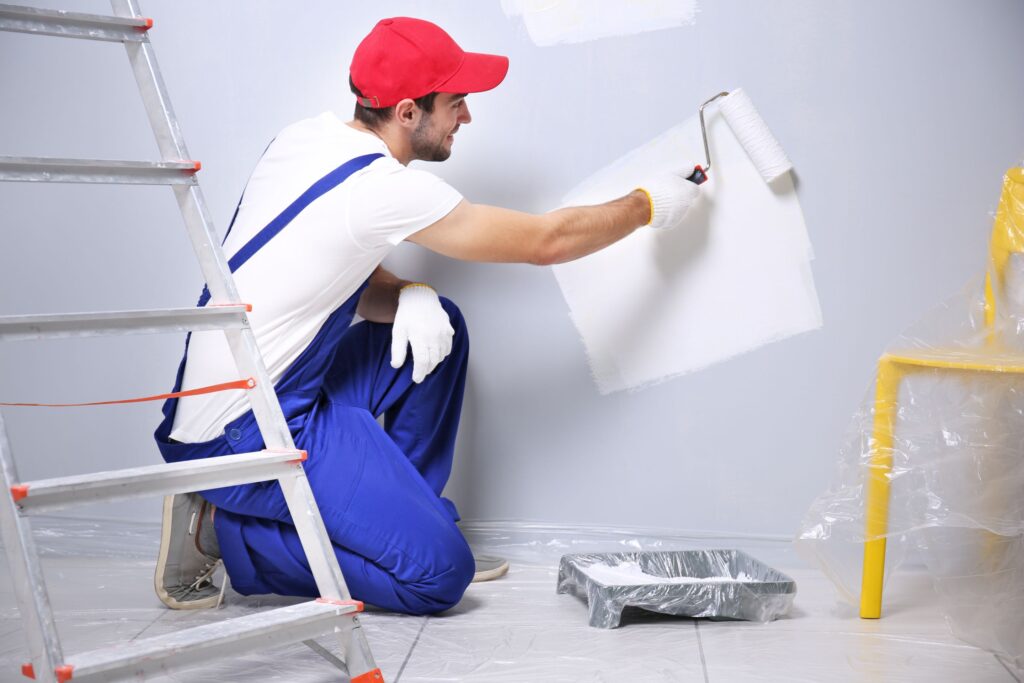 Choosing a Painter; Tips to Making The Best Choice!
Choosing a painter can be a real challenge. The right painter can make your home look spectacular, a bad painter can be a complete disaster. Before hiring any painter, I always suggest looking for a referral that you trust. Take the time to speak with friends, family, even your local paint store. While online reviews can be helpful, they can also be misleading, or even fake. Here are 5 important tips you definitely should know about before choosing any painter!
How to they prepare the house before painting begins?
Painters will have different ways of preparing the exterior of a home that they will be painting. Will they be sanding down the house? Do you need paint or can you use a stain? Most importantly, how to you protect those who live there, so that no one will be breathing in the dust from the paint that has been removed? In an older home there might be lead in that dust, I certainly don't want anyone to be breathing that in. Ask your painters what they do to capture the airborne particles. Painting is primarily about changing the color of your home, but your safety is just as important!
Do they tidy up as they go?
When you are painting the interior, professional painters should be mindful of the fact they are in someone's home. This applies even if you've temporarily vacated it for redecoration. As such, they ought to keep mess to a minimum before, during, and after the paint job. I have found the cleaner they are, the more they care about your home and the better the job is once it's done!
Do they bill for work they have not done?
You may not have the time to supervise the painters' comings and goings. This means you need to trust them to get to work and stay for the contracted hours. It is so important to see them at work, and to have a detailed list of the work to be done.
Are the paint cans labeled?
Always look to see if the paint cans are labeled. If the paint pots used are not labeled the painters might be using a different paint brand than what you contracted for. That could mean that the painters are using a cheaper line of paint. That's fine if that is what you told them to do. But if you paid for premium paint or a specific brand, you'll want to see it come out of the name brand paint can and onto your walls.
How to Choose A Good Painter
As a homeowner, you will probably repaint your home a few different times in the courser of owning it. So, how do you choose a good painter? Sure, you can ask your friends and neighbors to begin with. But, what if they do have one to recommend? Although many people simply pick a random name out of the phone book, your better of going to a website like SmartGuy.com, which lists thousands of local professionals many with ratings you can verify.
Make a plan. Make sure you know in advance exactly what you want to paint and what color. In order to keep your costs down, you want to do it right the first time. Also, when meeting with various painters, make it clear that you want several coats, as well as the type of paint you want to use. Like most materials, there are better quality paints, and cheaper paints that won't last as long. Emphasize the need for proper preparation and make sure all of this is in the contract you sign.
Get a few estimates. Seek a written detailed estimate from each of the painting contractors. The estimate should include a summary of labor, material costs, the number of requested coats of primer and paint, the specific brand of materials, and details of the scope of job that is to be painter.
Verify references and past jobs. Get a list of past clients from each painter and call them to see how they did, how long it took them and if they experienced any problems working with the painter. You might want to even ask them for references of a few jobs they did five years earlier to see how they are holding up
Consider reviews. Before hiring the painter, look and see if they have a BBB rating or SmartGuy rating. You can also enter their company name followed by the words "rip off" or "scam" and see if anything comes up. You might also find some information on their company at your state's Contractors License Reference Site.
Tips to Choose a Professional a Residential Painting Contractor
Many home owners like to spruce-up the look of their home every once in a while. One of the best ways to do this in a cost-effective manner, with the least amount of trouble is to get the interior and exterior walls of your home repainted. While you do this, it's important you hire the services of a good Residential Painting contractor for the job. If you conduct an online search you will find there are a number of painting company listings.
So how do you pick one that will be able to provide you the kind of services you need? Here are some tips that will help you make the right choice:
Zero-in on the right company- As mentioned earlier, you will find a number of painting companies online. Make sure the professionals you hire handle residential projects. The kind of detailing and rendering required in residential painting jobs is intrinsically different from what is required in commercial projects. And hiring a contractor that has tackled house painting jobs means you get the kind of service you need.
All-round services- The Residential Painting contractor you opt for the job should be able to provide comprehensive services. It means they should meticulously power-wash all the glass doors and windows and these should also be masked while the walls are being painted. Simply put, they should handle every little aspect of interior and exterior painting
Type of paint- Today, the market is flooded with a variety of paint finishes and textures and it's important that the company be able to provide you different options to choose from. They should also have a colour consultant who would be able to provide advice about which type of paint and colour would look good in your home. This consultation becomes a very important aspect of the job.
Exterior painting tasks- When you hire a Residential Painting contractor to get the indoor spaces of your home painted, you may also want them to paint the exterior walls, as well as features such as boundary walls etc. It's best to check with the company whether they are able to handle all these jobs. The paint and techniques used in exterior painting is different from that used for indoor areas; and it's important that the contractor you hire for the job, be able to tackle this expertly too. After all, you don't want the paint job of the exterior of your home to look like it has been handled in a shoddy manner.
Other factors to take into account
It's also important that you ask the Residential Painting contractor for references. Any contractor with a good portfolio of work and a strong reputation would be more than happy to provide this. Last but not the least; the services should be cost-effective and fit into your budget as well.
HOW TO CHOOSE THE RIGHT PAINTING CONTRACTOR
There is something about spring and summer that compels us to start our home projects. Better weather means we get to do the projects we've been putting off for months and house painting is definitely one of them. Whether you are staging your house for it to be ready in the market, painting the baby nursery, repainting the walls to hide the nicks and dings that accumulated over the years or simply wanting to get a house revamp without hurting your pockets that much, a painting project should be done by a painting professional to make sure you get the result you are aiming for. How do you get started and how do you choose the right painting contractor for your project?
Based on Yelp, are about 236 painting contractors in Chicago alone. Choosing the right one is perhaps the most important and the most difficult part of any painting job." Who do I call?", "What company has the essential expertise that I need to get the job done?" These are the questions that will likely come up in search of THE painting contractor that will help you complete that painting project.
Plan Your Budget
Budget is one of the most predominant factor to consider before exploring your options of painting contractors in the area. What you decide on your budget will be determined by the quality of materials you want to use, the scale of the project as well as the amount of prep work that needs to be done.
Look for Feasible Options
There is no shortage of available resources for prospecting painting contractors. Yelp, Google, Angie's List are just a few places to start looking for painting companies near your area. Prepare a list of painting companies you may potentially hire. No matter how cliche it is, it is still better to lay down the pros and cons of each company so you will know you are making the best choice. Ask yourself what is the most important factor that you would like to consider when hiring a contractor? Is it the price? The reputation of the company? Maybe even its proximity? Don't make the common mistake of choosing the first company that shows up on Google search, do your own due diligence on researching different companies first
Ask the right questions
You've got your list of potential contractors, it's time for you to interview them for the job. In this day and age, you can easily get in touch with them, be it by email, phone, or chat. Now, one of the reasons why clients like you end up dissatisfied with their contractor is because the right questions weren't asked before they hired a contractor