How do you hide uneven walls when painting?
Uneven walls can add considerably to the charm of a house or they can drive the owner to distraction. Which it is depends on the style of interior décor you are trying to achieve. A modern, minimalist home calls for crisp plaster and smooth paint, to bring light and airiness into the room. In an old cottage or barn on the other hand, rough textured walls, exposed stonework, beams and cheerful fabrics look cosy and inviting.
Turning Uneven Walls into a Feature
If you want to turn your uneven walls into a feature, or even achieve the 'cottage' look in a modern home, try the following:
Use textured plaster and apply with a roller or float in broad sweeps for an old-fashioned look. Textured plasters come in a variety of 'graininess', from fine to coarse.
For an even more authentic look, add a dash of buttermilk or cream paint to the plaster, and leave the wall unpainted.
Alternatively, paint the plastered wall in your chosen shade: Mediterranean colours like bright blue, orange or a dull red can make a feature of one wall or transform a small room, such as a bathroom or a kitchen.
Using Paint Effects to Disguise an Uneven Wall
Disguising unevenness is more economical and less drastic – but you need a little skill with paints. The easiest way to minimise the effect of uneven plaster is to use paint effects:
Repair the biggest cracks and imperfections using filler or plaster
Sand the wall using a block and paper or an electric sander. This is a slow and very dusty job. Make sure you wear a goggles and a facemask while sanding to protect yourself.
When the wall is smooth, wash it down carefully and leave to dry.
If the plaster is old and very porous, apply a primer.
Paint the wall in your chosen colour, and then apply a lighter shade of the same colour over the top using a sponge, dabbing in a close, irregular pattern. This works better with a darker base colour.
Alternatively, blend shades of grey, yellow, and pink to imitate sandstone. Shade in shapes of large bricks or blocks with dark grey tones. If done well, this looks stunning as the backdrop to a sitting or dining room.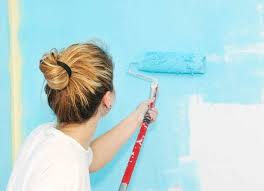 Painting Techniques to Hide Flaws in Drywall
Repaired or patched drywall or walls in older homes have scars you can hide by adding textured paint or a faux Tuscan paint finish. Other methods involve adding a secondary glaze coat by color washing, dry brushing, ragging and more. Each of these methods adds at least two colors to the walls to make them appear textured and suede-like or give them an Old World look — while hiding the wall's defects. Decorative wall painting techniques can actually turn a wall's flaws into benefits, by helping create an antique and distressed or shabby chic-style look.
Wall Prep
Make needed repairs on the drywall, and sand after the repairs are dry. Wipe down the walls with a moistened cloth to remove drywall dust and any other debris. To hide large imperfections, you may want to add a texture coat of drywall mud to the wall to create a more dramatic effect, but you can also simulate the textured look by using faux painting techniques. Cover baseboards with painter's tape or remove them altogether, and lay dropcloths to catch paint spills.
Ragged Walls
Hide drywall imperfections and flaws by using the paint ragging technique. After your repairs, add a primer coat to the wall with a roller. When the wall is dry, apply a base coat of, for example, sky blue by roller and then a cloud-white glaze coat ragged onto the walls for a soft cloth-like effect. Once the base coat dries, prepare the glaze mixture and apply it with cheesecloth, a rag or microfiber cloth. Lightly dab paint across the wall with the rag, avoiding too much paint — you want to see the original color through the glaze coat. The ragging technique gives walls a two-toned color density, creating the look of leather or faded, mottled soft cloth on the walls.
Tuscan Faux Finish
The Tuscan faux finish simulates the look of walls in old villas from the Tuscany region of Italy. It's similar to the rag and dry-brush techniques — once the base coat is dry, add a top coat in a slightly different color to create the look of timeworn stucco. For instance, paint the walls a light warm copper, and add a second coat in a teal brushed on in a crisscross dry-brush technique or applied with a sponge. This color combo gives the wall an aged copper patina look. You can also apply colors in the same family or a muted wheat color overlaid with a sponged pale yellow.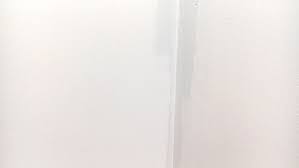 Create texture with old paintbrushes.
Old brushes can add to your existing paint brush or roller work and create a rich texture that hides minor wall flaws like scrapes and chips. In the end, you'll likely have fun by using your brushes to add extra texture to your wall. Start by gathering different sized brushes from around your house.
Wash your brushes so there is no dirt or other debris attached to them.
Take your brushes and brush texture in all over your wet paint. Leave enough brush marks so the wall damage blends with your newly created texture.
If you need more paint, feel free to use it.
Try to complete one small section of wall at a time. For example, paint and texture one 8 foot (2.44 meter) by 10 foot (3 meter) section before moving on to another.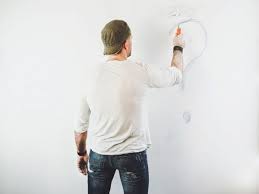 Hang an art piece on a swing arm.
For an even simpler but equally artistic way to cover a thermostat or other infrequently used wall gadget, try hanging an art piece on a swing arm, or hang it from a standard hanger and nudge it out of the way when you need to get at whatever is behind.
Use chalkboard paint.
If a wall has been seriously dented or otherwise damaged, painting over it with a typical eggshell paint won't help much. The more gloss in a paint finish, the more it will highlight imperfections. On the other hand, matte chalkboard paint gives a great non-glossy texture for hiding blemishes, and writing a fun message on it will further camouflage any dings or dents.
Wall Painting Techniques For Imperfect Walls
Old and damaged walls require special wall painting techniques in order to cover up the surface imperfections – be it loose and cracking plaster or gouged and peeling drywall. Wall flaws can be a real eyesore, but drywall installation or replacement is not the best or only solution available. In fact, the right wall painting techniques offer you a faster, cheaper and easier way to handle the problem, and one of the following 3 options will surely work for your situation.
Fix It Up – With Proper Surface Prep
Even if the walls look really bad to you, chances are they can still be restored and made smooth – don't underestimate the power of a good, thorough surface preparation. Old and damaged walls can look like new with proper surface preparation
Depending on the extent of the damage (for example, walls with decades of accumulated neglect), some walls may need to be skim coated entirely, to create a new surface.
Cover It Up – With Wall Paint Textures
If your walls are really ugly but you are not married to the idea that they must be flat and smooth, using a textured paint may be a better alternative to skim coating (you'll still need to patch up deeply gouged spots first but you won't have to make it perfect). Textured wall paint can camouflage many surface imperfections
With textured wall painting techniques, not only can you hide many surface flaws, but you will also add a decorative value to your home at the same time. And if you've seen some wall texture styles and didn't care much for the look, think again – there are dozens of ways to texture a wall, so no matter what your preferences are, you are bound to find the look you'll like.
Play It Up – With Faux Painting Techniques
What if you could use those unsightly wall flaws to your advantage? Well, with decorative wall painting techniques, you can! Faux painting finishes can make wall flaws look decorative
With faux painting, you can deliberately highlight and enhance any surface "defects" and turn them into benefits, where they will now look intentional, and play an important part in creating a lived-in, distressed or antique look and feel. And unless you have some major holes in the walls, you don't even need to do any repairs to the walls, because when incorporated into a faux finish pattern, all the dents, scratches and uneven spots will actually add to the chic and authenticity of the finish. The best techniques for this purpose are those that use at least 2 colors for an effective play on textures: color-washing, lime-washing, glazing, rubbing and sponging.