How do you repair an emergency roof?
Your roof is your stalwart defender. In the face of adversity—weather, pests, and intruders—it stands strong and protects all that you've built and acquired. It's the first line of defense. But after a while, even the strongest roofing materials require repairs. Today's roofing systems are vulnerable to stress, unexpected damage, and severe weather. We here in Texas know the curse of a terrible storm all too well. Your roof does, too.
What Qualifies as a Roofing Emergency
Many homeowners feel that a clogged gutter, damaged flashing, or a minor roof leak warrants emergency roofing repair. Often, they don't. These situations, while surely troublesome, often require nothing more than short-term repairs to really resolve the trouble.
After a serious storm in Texas, damage to your roof that requires emergency roofing repair include:
Metal panels or sections of shingles torn off by high winds, with the underlying substrate enduring damage.
A tree limb falling on the roof, puncturing the roofing material and decking.
A direct lightning hit, with serious burn marks and damage.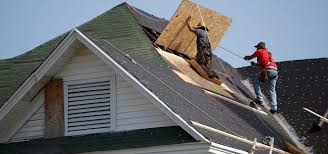 Tarping Your Roof
The best option for emergency roofing repair is to tarp your roof in order to prevent further water damage to your home. Usually, this process involves securing a tarp over the damaged section of your roof with the help of a utility knife, measuring tape, a few 2×4's, a hand saw, a staple gun, and 3 ¼" nails. However, while it might sound easy to carry out this kind of roof leak repair yourself, remember that working on your roof is dangerous, and you should never attempt to finish an emergency roof leak repair on your own. Instead, seek professional help from a qualified contractor.
Though every emergency roofing situation is unique, most tarp coverings will last about 90 days. That said, you should aim to finish your roof leak repair as quickly as possible, since not even the best tarp will protect your home as efficiently as real roofing materials.
Emergency Flat Roof Repair
Emergency flat roof repair is very different from a pitched roof leak repair, and can be executed during a storm. It involves applying a specifically designed sealing compound as a patch over the roofing. The sealing compound should work when wet, and should not interfere with a proper flat roof repair after the storm is over. If you have a flat roof, it's best to purchase sealing compounds and other necessary products beforehand as a precaution.
Although flat roof repair is safer than working on a pitched roof during nasty weather, remain cautious. Never attempt to patch your roof during a thunder or lightning storm.
Roof Repair After the Storm
Once you've finished an emergency roof repair, the next step is to contact a qualified roofer for a permanent fix. Do not attempt a roof leak repair yourself, as the consequences of doing it improperly are too costly and dangerous.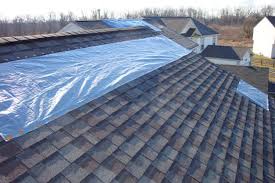 What Is A "Semi-Emergency" Roof Repair Need?
Every leak is serious and calls for immediate attention, but some leaks are more urgent than others. A slow, small leak may call for immediately making an appointment with a roofing contractor but may not need same-day response and a patch job and tarp like full emergencies could require.
The danger of procrastinating on semi-emergencies until they turn into real emergencies is very real. It's just human nature – you are able to "get by for a while longer", so you do. The better course of action is to contain the problem while scheduling a roof repair visit as soon as possible.
What Are The Least Urgent Roof Repairs?
Relatively speaking, roof repair needs are among the most urgent (perhaps THE most urgent) on your whole house. But there are some roofing needs that are less urgent than the others.
For example, hail damage would require a quick visit from your home insurance agent and a roof inspection. Then, damaged shingles may need to be replaced because hail impacts weaken their long-term durability. But it's not usually an emergency need.
Also, if your current roofing is showing signs of its age and is in need of replacement, it doesn't have to be done tomorrow. But, the sooner you replace old roofing, the sooner you eliminate its inherent risks and gain important benefits like a long warranty, renewed curb appeal, and a more effective water barrier that will stay low-maintenance for years to come.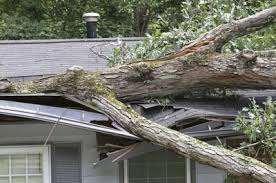 Checking your roofing for signs of leaking
It makes sense to periodically check flat roofing so that any issues can be spotted and dealt with before they become more serious problems.
Carry out visual inspections regularly, every few weeks to make sure you know your roofing. This way, when things begin to go wrong, you will know. Look for signs of bubbling or cracking in old felt coverings or membranes as this will be a giveaway sign of something going on underneath the roofing. Ponding water on the roof surface is also a sign of potential damage.
Calling in a professional roofer
An emergency roof repair often calls for professional attention, but this can prove costly for homeowners. Often, an emergency call-out incurs an additional fee, as your professional roofer may have to reschedule his current clients and projects to attend. Out-of-hours fees can be even more expensive, so bear this in mind before you call someone out.
Steps to take during an emergency roof leak
During the spring season, heavy rainfall can cause significant damage to your roofing. If your roof shingles blow away and your roof springs a leak, it is important to act fast to stop water damage from spreading to the rest of your home. A contractor that offers emergency roof repair near Bergen County can provide you with storm damage roof repair after a major weather event occurs in your area. By building a relationship with a roofer that offers emergency services, you will know who to call after the next big storm. Let's take a closer look at some essential steps to take during an emergency roof leak.roof – leak
Minimize Water Damage to the Inside of Your Home
The first step to take when you discover that your roof has sprung an emergency leak is to do the best that you can to minimize the amount of water damage that is occurring on the inside of your home. Once you have identified where the water is leaking, you can use buckets or other receptacles to collect the leaking water.
Determine Where the Damage Has Occurred
Depending on the scope and nature of your roof damage, you may be able to pinpoint where the leak has occurred. Your safety is of the utmost importance, so do not attempt to locate a leak in a roof that has experienced extensive structural damage. If you are able to identify the leak from the ground, you will have a better idea of how to stop the leaking water until help can arrive.
Apply a Tarp to the Damaged Section
In certain cases, you may want to minimize the leak while you are waiting on your roof repair services. A household tarp can be used to temporarily cover up the damaged section of the roof. In order to secure the tarp to the surface of your roof, you can place heavy boards around its perimeter. Once your roofers arrive, they can remove the tarp and start repairing the damaged section of your roof.