Secrets of People Who Always Have a Clean Kitchen
You know the type—their floors are always gleaming and they're never embarrassed to show you the inside of their microwave. The good news is, you can have a clean kitchen, too!
They Clean as They Cook
Let's face it, cooking a meal makes a mess in the kitchen—but that doesn't mean people with clean kitchens never eat! The difference is, they clean as they cook. Set out a large empty bowl to throw in egg shells, vegetable peels and wrappers so that all the garbage is contained to one spot. Place a dish bin next to the sink full of hot soapy water, and you can throw in dirty dishes as needed.
They Have a Place for Everything
If you have a specific spot for each item in your kitchen, cleaning up—and keeping it clean—is a lot easier. The key is only keeping things you use, and to stay organized. Use drawer and cabinet organizers, fridge bins and pantry baskets, so that every item has a home
They Load the Dishwasher Every Night
Starting the day with an empty dishwasher sets you up for success. People with clean kitchens make a habit of loading and running the dishwasher before they go to bed, then emptying it first thing in the morning.
They Keep Counters Clear
If your kitchen counter is crowded with small appliances and decorative items, it's easy for the area to collect dust, food messes and additional clutter. Instead, clear the counter of almost everything. Move mail and kids' homework other zones in the house, and (if you have the cabinet space) put away appliances that aren't used every day.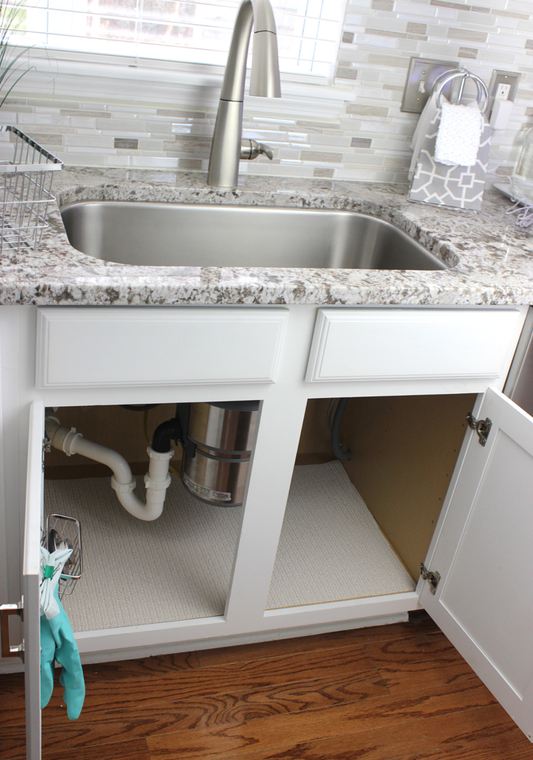 HOW TO ORGANIZE UNDER THE KITCHEN SINK
Want a quick project that will help get your kitchen organized in a hurry? Organize under the kitchen sink. Every once in a while I do a full clean out of this space and every time I do, I streamline it a little more, realize we need less, and maximize this area in the kitchen.
I don't know about you but I open this cupboard daily and seeing it neat and tidy brings an odd sense of satisfaction. When it's messy and cluttered it brings the opposite feeling – frustration. Want to tackle the space under your kitchen sink?
HERE'S THE SIMPLE STEP-BY-STEP:
Empty the cupboard.
Put the items in 4 categories: Keep, toss/recycle, donate, relocate.
Wipe down the cupboard – consider adding adhesive paper (like Con-tact paper) to the bottom shelf to protect it and make it a little more decorative.
Put what's left into categories and set up containers to keep things in. I use a handled bucket, an upcycled vase for cleaning brushes, a small dish for veggie brushes, and a turntable for kitchen cleaning supplies and cleaners. Use what you have!
Once I use them for a day, I wring them out and rinse and place over the sink to air dry overnight. Then I put that cloth on a little hook on the inside of the door under the sink to finish drying.
Once the Bar Mop Towel is dry, I toss it in the handled bucket under the sink with the other dirty towels. Once I have a load of them, I wash them with our other kitchen towels.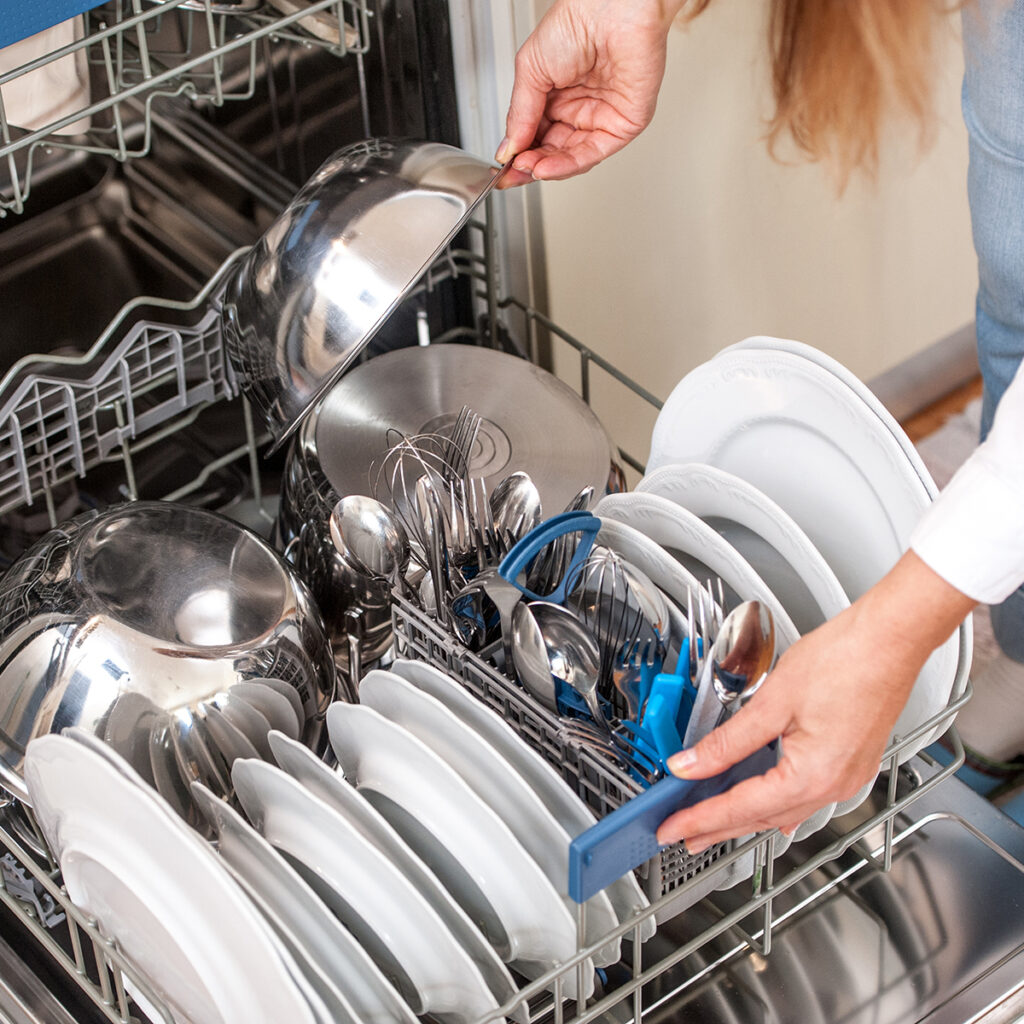 The Best Tips on How to Organize Under the Kitchen Sink
This year one of my goals is to get our home more organized. I don't have a thought out plan on how to make it happen. It's more like this: I'm going to tackle a space when I decide I've had enough of the mess. So today that mess is the cabinet area under my kitchen sink. If you have avoided that cabinet like me, I can help. I'm sharing my whole step-by-step process on how to organize under the kitchen sink. Plus I'll talk about the one item many of you store under your sink that won't be under mine!
There is a reason why the cabinet under the sink has doors. Let's state the obvious, there's holes in the wall for plumbing with ugly plastic pipes. Who wants to look at that?! You'll also find under the sink those big garage disposals and cords. Plus it's just like the darkest place in the whole kitchen. I much prefer this view!
REMOVE EVERYTHING
Before I show you the good — aka the finished look — I have to show you the bad and ugly. Yes, my under sink cabinet had become a crazy mess. It's so embarrassing to admit but I'm giving you full transparency here. We're all friends right?
SORT AND PRIORITIZE
Once you have all the items out you can start to sort and prioritize what should be in this space. If you find items that don't belong, remove them and store elsewhere. Then think about what annoyed you most in the past with items under the sink. What needs to be closest to the front? What do you reach for daily?
One of my biggest frustration I was having in this space was not being able to easily reach the dishwasher cleaning pods. I would have to pull our like two items just to get to the container. Since we run the dishwasher daily, this was annoying.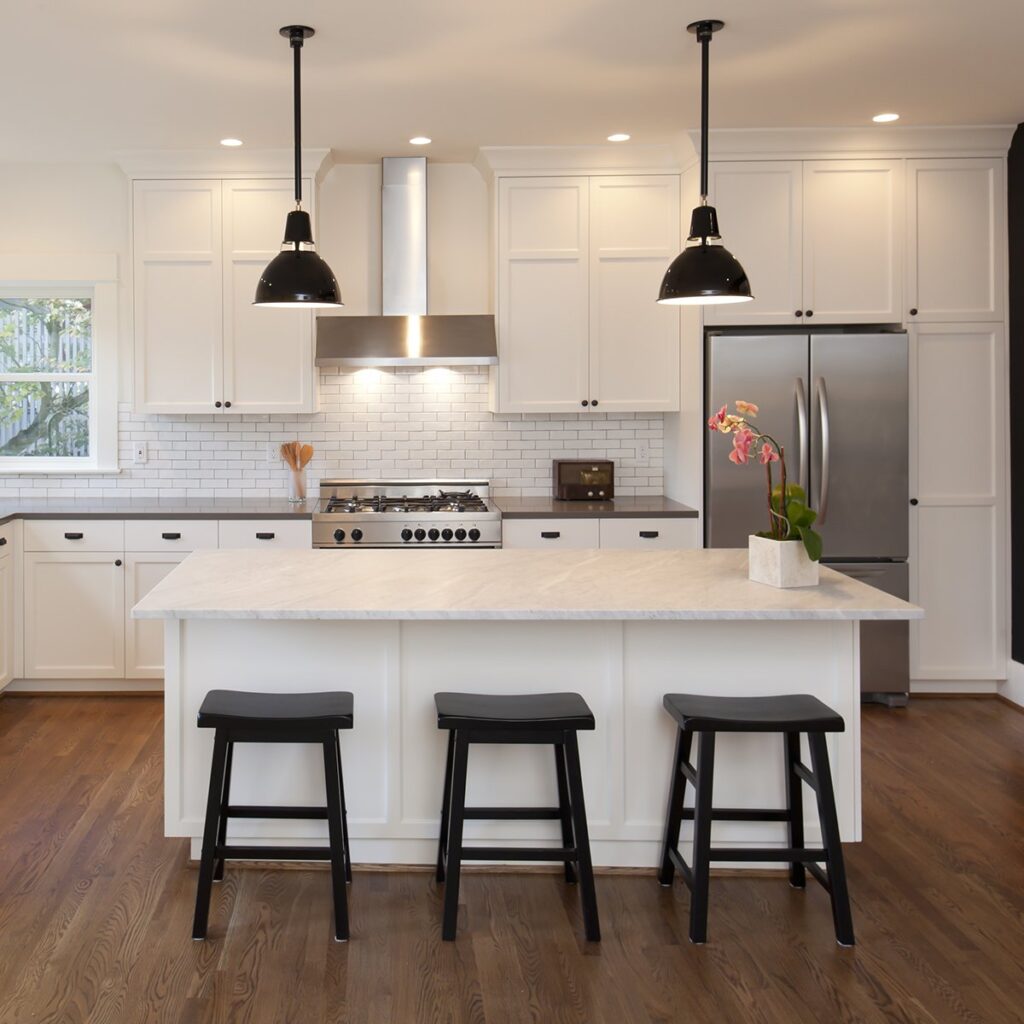 things to consider before buying a sink
When designing a kitchen it's easy to forget about the sink. You're already choosing cabinets, countertops, tile, appliances and more. Here's how to avoid the most common mistakes and make sure you get everything you want and the kitchen sink
Design
A great kitchen sink can either enhance or detract from the overall design of your kitchen.
Farmhouse Sink
Apron Front (or farmhouse) sinks like this fireclay sink by Elkay, can give you a more traditional style. Just remember if you choose and Apron Front sink that will need to be installed before the countertop fabricator can field measure
Quality
When it comes to quality there are a few guidelines that can help you pick the right sink for your kitchen, In the global economy we live in now, there are plenty of knock off brands, and low quality offerings out there. A quick amazon search will give you hundred of kitchen sinks for less than $300 each. Before you click the buy button make sure it's made made by a reputable manufacturer. We love Elkay & Kohler. Both Elkay & Kohler have most of their manufacturing done in the U.S. and provide really good warrantees through their dealer networks. Many other brands that you'll find online are manufactured oversees, may use sub-standard raw materials, and don't all have the same quality control standards that we've come to rely on from Elkay & Kohler.
Warranty
Warranty Is just as important as quality when choosing a sink. Most sinks will have a stamp on the box that says there is some sort of warranty. It's hard to decipher what this really means, so we recommend asking the dealer what kind of warranty they supply, What really happens where there is an issue with that sink? After your kitchen is completely finished, and you notice a chip or crack in the sink, how do you get it fixed? Many suppliers will offer to send a new sink, but you'll have to cover the cost of install, plumbing, lifting the countertops, etc., that come with replacing a sink. Most often those costs amount to much more than the cost of the sink.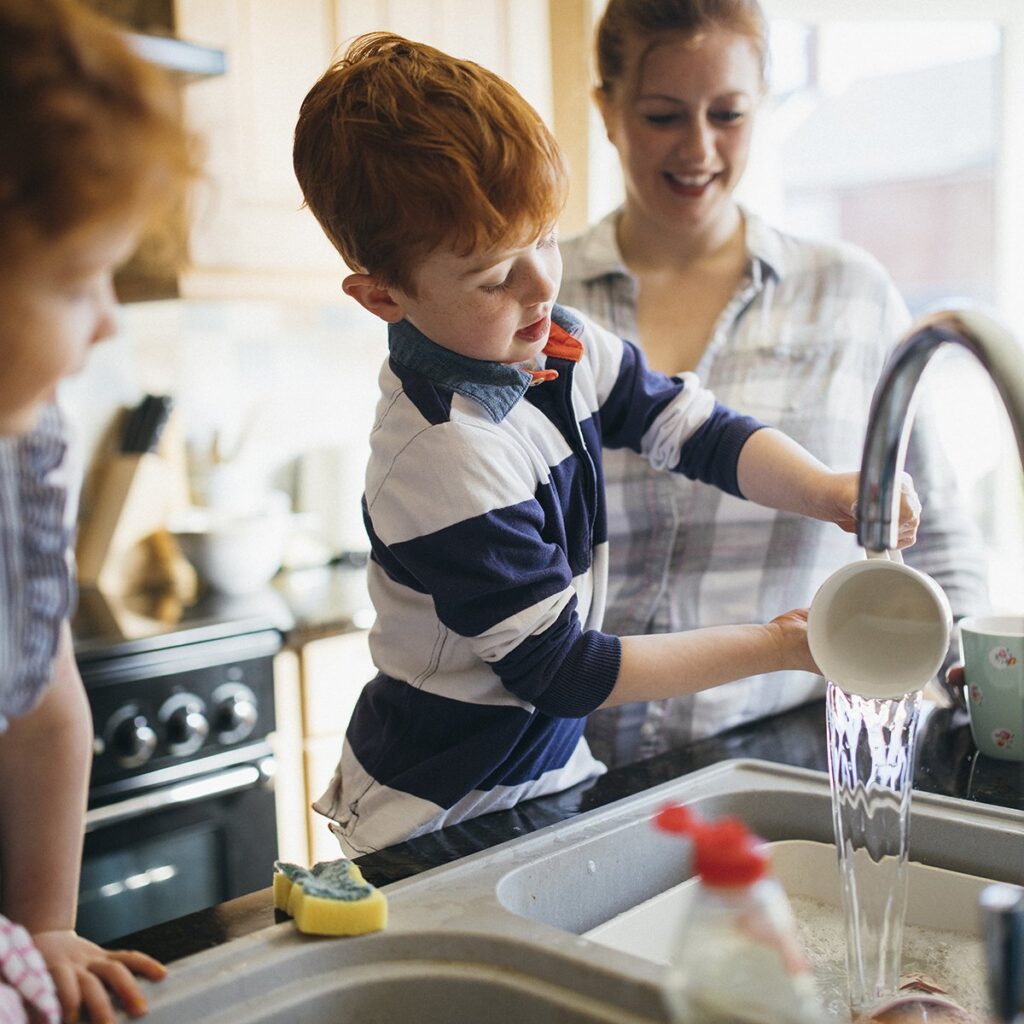 Kitchen Sink Buying Guide
Every kitchen revolves around the sink, whether it's used for washing hands and rinsing food or cleaning a huge load of dishes. We'll show you how to find the right one for your space, from format and material to installation.
The Most Important Part of Your Kitchen
Few things in the home are as important or frequently used as the kitchen sink. It's one of the most important decisions you can make, and we've got the right one waiting for you. Whether it's a simple one-bowl configuration or three-bowl farmhouse sink, the perfect one is just a click away.
Choose the Sink Format
Bowl Configuration: One, two, or three — explore what works for you.
Depth: Choose bowl depth(s) based on your needs. Deeper bowls are more versatile and allow for easier cleaning of large pots. Shallow bowls are convenient for general tasks and more accessible for children. Multiple bowl sinks can vary in depth from one side to the other.
Shape: The rectangular shape is the most functional, but review other options for a different look.
Select the Material
Enameled Cast Iron: These are solid cast iron sink covered in porcelain enamel for long-lasting durability. They're available in a variety of colours and resist staining, chipping, and scratching.
Composite Materials: Quartz or granite, combined with acrylic or polyester resins, form a rock-hard composite sink that resists staining, chipping, and scratching.
Acrylic: Made with acrylic materials and reinforced with composite backing, these sinks are available in a variety of colours and resist staining and impact.
Stainless Steel: Finishes and steel thickness affect the sink's durability and ability to disguise scratching, but they're very good at resisting burning or cracking. They come in a variety of decorative finishes, with some insulated to reduce noise.
Consider the Installation
Undermount: They attach below the countertop for a more integrated look and easier clean up, with faucet holes drilled into the countertop. They work best with stone or solid-surface countertops.
Drop-In: Self-rimming and easy to install, faucet holes are pre-drilled into the sink ledge, making them ideal for replacement projects.
Integral: They're made of the same material as solid surface countertops for a seamless appearance and easy clean up. These sinks are moulded into the countertop with faucet holes drilled in.