Key Measurements for a Dream Laundry Room
Laundry rooms rule. If you have the luxury of space, laundry rooms can be more than places to clean clothes; they can be welcoming, accessible places for more activities, such as caring for pets, sewing, doing DIY projects, wrapping packages, starting seedlings and more.
As with kitchens, there are a number of considerations and dimensions to be aware of during the planning stages for a multipurpose laundry room. Below are several functions you might want to consider and some basics for how to lay everything out
Primary Areas and Functions of Laundry Rooms
1. Entry and prep. If you install a laundry sink, you will probably want to place it where you enter the room and set down the items to be washed. Here you can sort, apply fabric treatments and soak stains if necessary.
2. Washing. It is good to have a countertop where you can place your sorted loads before putting them in the washing machine.
3. Drying. You'll also want another section of countertop for items that need to be line dried, as well as space to fold dried laundry.
4. Storage and ironing. Following the typical sequence, you then need space to put things in preparation for ironing. (Note that ironing space may be less desirable in this room if you want to watch TV while you iron, or if the dry cleaner does much of your pressing.) Folded ironing boards measure about 14 inches wide, 60 inches long and 3 inches thick (36 by 152 by 7 centimeters).
5. Extras. Of course, some people with large spaces want to use their laundry room as a craft or sewing area, mudroom or dog washing station, or to hide the litter boxes. These are very specific to each of us; planning spaces with a little extra room for these functions lets individual habits dictate their use.
Note: Conversions to metric dimensions are approximately translated from standard U.S. dimensions. Each country can be unique in its standards. Investigate the customs in your locale or work with a design pro before committing to a plan.
Washing Machine and Dryer Configuration
Side by side. Washers and dryers placed side by side are typically designed to fit within 60 inches (152 centimeters) of width, but some manufacturers make more compact machines. If you place front-loading machines side by side, you will have a nice, broad surface on top of them.
If you have a top loader and want folding and work space, you can add counters next to the appliances or elsewhere in the room. It will help to have between 18 and 42 inches (46 and 61 centimeters) of free counter space on either side. The space above the machines can be used for a drying rod set at about 76 inches (193 centimeters) high. Some newer washers and dryers stand taller than a conventional 36-inch-high countertop, which can work to your advantage if you're tall.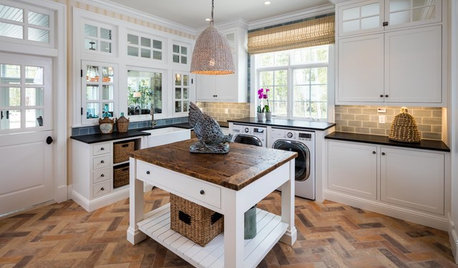 Key Measurements for a Dream Bedroom
We spend more time in bedrooms than in any other room in the house. Even though we are sleeping most of that time, we end and begin our days there. An organized and well-considered space can improve your mood when you need to get to sleep, and get your day off to a good start when you wake.
Planning bedrooms starts with learning standard bed sizes, which one you prefer and which one will work in your plan. Other bedroom furniture comes in all kinds of sizes. Once you determine your room and bed dimensions, you can make good decisions about dressers, chests, benches, chairs, nightstands and so on.
King-Size Beds
King-size beds provide lots of comfort for two people and extra space for those who tend to spread out while sleeping. All beds dominate a room, but the king-size bed especially demands aesthetic attention. They come in two sizes:
Standard, or Eastern, king-size bed: 76 inches wide and 80 inches long
California king: 72 inches wide and 84 inches long
Queen-Size Beds
Goldilocks might have chosen the queen-size bed. Being just right, it is a great size for two people and does not require a larger room, as do king-size beds. Queen-size beds measure 60 inches wide and 80 inches long and can also be found in an 84-inch length. Their scale works with traditional furniture, such as four-poster bed frames.
Full-Size Beds
The full- or double-size bed measures 54 inches wide and 75 inches long and can also be found in an 80-inch length. Full-size beds can be a snug fit for two taller people, so consider moving up to a queen size if you have the space and plan to use it frequently for yourself or guests. Still, the full size is also good for smaller bedrooms.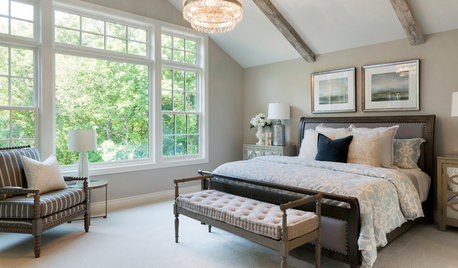 Inspired Ideas for Your Empty-Nest Makeover
While children are living at home, it can be hard to fathom a life without little ones (or not-so-little ones) underfoot. So when you do have the house to yourself, it may not be at all clear what to do. Should you keep everything as-is, renovate, downsize — or even upsize? Of course there's no one right answer — but it makes sense to consider this an opportunity to reflect on what you want from this new chapter in your life and allow your reflections to inform your next step.
Cozy Up in a Couple's Lounge
After their children left home, this couple tapped interior designer to help transform an underused sitting room into a cozy space to play games, read and watch TV. With a big, cushy sectional anchoring the space, good lighting, a soft wool rug underfoot and all of their favorite books and games at hand, this room has become a favorite spot to hang out in the mornings and evenings.
Get Fancy
While it's certainly true that there are loads of stylish and kid-friendly decor options out there these days, the fact remains that certain modes of decorating just don't make sense while kids are in the house.
Tackle a Long-Awaited Remodeling Project
Between saving for college and the general busyness that comes with having kids at home, it's no surprise that plenty of empty nesters see their new situation as an opportunity to finally invest in the renovations they've been dreaming of for years
Create a Hub for Family Get-Togethers
wanted enough space to comfortably host their annual seder dinner, which regularly draws more than 20 guests. As recent empty nesters, they decided to do something a bit unusual: They let go of some bedroom and bathroom space and put it into a great room that can easily fit the large group gatherings they love to host.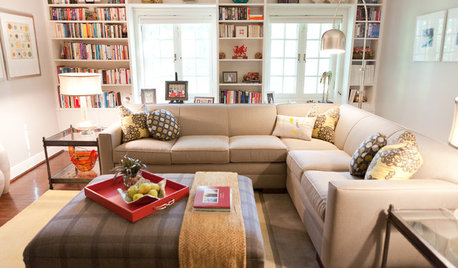 How Much Does It Cost to Hire a Kitchen Designer?
If you're looking to remodel your kitchen, working with a kitchen designer could be well worth the investment. These professionals can bring your remodeling project expertise and ideas that can result in a more beautiful and functional kitchen. But how much does it cost to hire one?
The answer, of course, is that it depends. A designer's fees can vary based on the scope of your kitchen remodel and the price of materials and design services in your area. To get a sense of the range, we interviewed 13 kitchen designers across the country about what they do and how they charge.
What Do Kitchen Designers Do?
Kitchen designers take a kitchen remodel from the seed of an idea to completion. They:
Create design concepts. A kitchen designer will come up with a vision or design concept for a kitchen that looks, feels and functions right for you. They'll likely ask about the problems with your existing kitchen as well as how you'd like to use your space. They may want to know who in your home cooks and how often. "If I have a client who uses an oven or a microwave a lot, I want to make sure it's not on the outskirts of the kitchen,"
Create design plans. Kitchen designers can plan everything about your kitchen, from broad changes like a new layout to details such as where to place an electrical outlet on the island. They create drawings and 3D renderings to give you a realistic picture of how your new kitchen will look.
Confirm a realistic budget. Kitchen designers know the costs of products and materials, as well as the costs to make changes to your kitchen's layout. When you share your initial budget with them, they can help you gain a realistic sense of what that investment will cover. "The budget is helpful so I'm not overdesigning for their space,"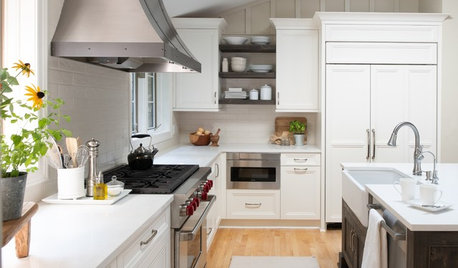 Key Measurements for the Perfect Garage
Throughout the past century, garage dimensions have remained about 9 to 10 feet wide and 18 to 20 feet long per car, with a single garage door width of 8 feet. The difference in garage dimensions now is that we tend to want more space for storing our stuff along with the car.
It seems that car designers are always enlarging, shrinking and then enlarging their models again to adjust for the latest fashions and technologies, not to mention the price of gas. But there are common parameters that will help you in planning a new garage or remodeling an existing one.
If you have ever scraped your car alongside a garage door frame, you will sympathize with your ancestors, who may have driven even larger cars. Let's take a look at the dimensions of most garage designs in the U.S. today.
Garage Door Dimensions
Width: Single-car doors begin at 8 feet wide (2.4 meters). You can also get 9-foot-wide doors (2.7 meters), which will lessen the chance of scraping the fenders on the door frame. You will sometimes see doors narrower than this in country club developments, but those are usually for golf cart garages; they can be as narrow as 5 feet (1.5 meters).
Height: The standard garage door height is 7 feet (2.1 meters), but an 8-foot (2.4-meter) height is also available. You can get a custom height for an additional cost.