What to Expect at Your Puppy's First Vet Visit
Your Puppy's First Vet Visit
The best veterinarians have busy schedules, so if you know exactly when you'll be picking your puppy up, call in advance to get a convenient appointment. Don't wait until the last minute.
You should also try to visit the clinic before your puppy comes home. Look around and see if you are at ease there, that the support staff seems friendly, and the facility is clean. Most vets will take the time to chat with prospective clients. This can be very helpful because it's important that you are comfortable enough with this individual to ask questions. You will have lots of them when your new pup comes home and you want someone who will treat your concerns with respect.
Also, find out about the clinic's after-hours setup. One great truth about life with puppies is that emergencies rarely pop up from 9 to 5. Know what to do in the case your puppy gets an ear infection in the middle of the night, and that includes making plans for transportation to the facility.
What Happens During The First Vet Visit
During your puppy's first visit, the vet should:
Weigh the puppy;
Listen to heart and lungs with a stethoscope;
Take his temperature (note: pet temperatures are taken rectally);
Examine eyes, ears, nose, feet, and genitalia
Examine skin and coat;
Look at teeth and mouth;
Palpate abdomen and lymph nodes;
Examine feces (bring a sample) for the presence of worms (most pups have roundworms);
Discuss the puppy's history and any questions you might have about feeding, medical issues, such as worm medications, and future care, such as microchipping, and spaying and neutering;
If you are going home with medications or treatments, make sure that you understand when and how they are to be given. Follow directions to the letter, and set up a schedule for follow-up visits and vaccinations.
Remember to bring any paperwork, such as medical records from the breeder or rescue, so the vet can include these in your dog's file.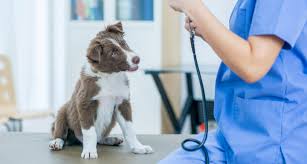 When to Take a Puppy to the Vet for the First Time
Many dog shelters and breeders start vet visits for puppies before they release their little ones to new pet parents. You should receive paperwork that clearly states what type of care has already been provided, when that occurred, and when you should schedule your puppy's next veterinary visit.
But regardless of what the shelter or breeder has already done, it is always a good idea to schedule a new puppy vet visit within a few days of picking up your new canine companion. This will allow the veterinarian to review your pup's records and quickly provide any overdue care. The doctor will also perform a complete physical examination and perhaps run some laboratory tests to identify any potential health concerns. It's best to learn about problems as soon as possible before any health guarantees the breeder provides expires.
A typical vet schedule for puppies is for appointments to occur every 3 to 4 weeks starting when puppies are 6 to 8 weeks old and ending when they are 4 or 5 months old. Most puppies start their vaccinations when they are 6 to 8 weeks old. Puppies who receive their first vaccinations when they are older than 4 or 5 months of age can usually be caught up in two visits scheduled 3 to 4 weeks apart. Your veterinarian may adjust this plan based on your puppy's particular history and needs.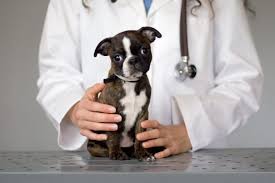 Tips for a Puppy's First Vet Visit
Now that you know what to expect, here are 9 tips to have a great first puppy vet visit.
Call ahead and schedule an appointment.
I know this seems like a duh, but is overwhelming when you have a new puppy, so take care of this right away. If you live in the Southeast, look for a vet with Southern Vet Partners. When you schedule, share with the receptionist of any special needs your pet has (afraid of other dogs, anxious at the vet, dislikes nail trims, etc), or other issues (lots of scratching, chewing paws, coughing, etc). You can also schedule online.
Write down any questions/concerns you have
Just like when you go to the pediatrician for your kids, it is a good idea to have a running list. Most people forget what their questions are when they arrive, so it is good to have a list at home.
Fill out paperwork prior to arrival
Have your previous vet (if applicable) send over any medical records. If no previous vet, send any paperwork you have, or if not able, bring with you to your appointment. We brought our folder of information about Zelda that we got from her breeder.
Bring puppy food and treats
If it's close to feeding time, don't feed at home. Instead bring your puppy's food and/or favorite treats. They are more accepting to food rewards and distraction when they have their appointment. This is also helpful when going over your pet's diet with your vet.
Bring anything that will make your pet comfortable
If your puppy has favorite blanket, toys, treats, laser pointer, etc., bring those to help make him or her comfortable.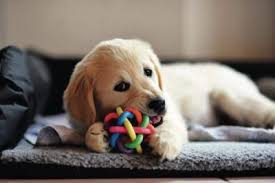 Before an Appointment
Your vet will need some basic info on your animal pal, especially if you're bringing him in for the first time. Take notes with you on:
The names and doses of all of your pet's medications
The kind of food they eat
Their eating and drinking habits
Their toilet habits
Any recent travel or tick bites
Past medical records, including vaccine history
Your vet may also want a stool sample. Call ahead and ask. If you have a bird or small animal like a hamster, you might not need to collect one: Chances are your pet will provide one on the way to the appointment or while you're in the office.
Visits to the vet can be stressful for your buddy. Bring along some of their favorite toys and a blanket. Ask if it's OK for them to eat before the visit — some health tests require animals to fast beforehand. (Water is OK — you don't want them to be dehydrated.) If food is OK, you could bring their favorite treats.
Cats, small critters like ferrets and hamsters, and birds should be in carriers when you bring them in. Dogs should at least be on a leash, although small ones may do better in a carrier.
If your pet doesn't get along well with other animals, let the office staff know. It might be easier for it to wait in your car with you until the vet is ready for the appointment. Call ahead of time to see if the clinic is running on schedule so you don't end up waiting too long.
Know what your budget is, too. This will help the vet know how extensive a checkup should be. Some people prefer for their pet to get routine bloodwork. Others are fine with the basics, like listening to the animal's heart and checking their eyes, nose, ears, teeth, and poop. Figure out how much you're prepared to spend if a test shows that your pet needs treatment.
What can I do to make the first visit a good experience?
The very first visit to the veterinary clinic should not be clinical at all, but rather a fun introduction to a new place. When scheduling your first visit, tell the receptionist that you want to introduce your dog to the veterinary clinic before his medical appointment. Ask if you can drop in when the clinic is least busy so that your dog is not overwhelmed by a multitude of strange dogs and cats, and so the receptionist has time to chat with you.
While in the veterinary clinic, have your dog on a short leash to keep him close to you. Small dogs can be held in your arms, but should still be on a leash in case they manage to jump out of your embrace. You may want to place a nervous dog inside a crate to limit his interaction with other animals and to make him feel secure. You can improve the homey atmosphere of the crate by lining it with a familiar smelling towel or blanket.
With your dog safely under your control, you can focus on making this first hospital experience a fun one. Veterinary staff members should be happy to give you a tour of the hospital, make friends with your dog, and offer a treat to make the first visit pleasant.
You will not see the veterinarian on this drop in so it should only take a few minutes, giving you an opportunity to get a head start on the real visit by setting up your dog's medical chart. Bring along all medical records including previous immunizations, deworming treatments, heartworm/tick prevention, and medical concerns.