How To Choose The Right Videographer For Your Wedding
Wedding videography is becoming ever more popular among the discerning clients, especially those who place great importance on the memories of their big day. With the advance of technology and the growing creative industry, the quality of wedding videos these days has improved dramatically and become much more film like. Wedding videography costs as much as, and at times, even more than wedding photography. That's why choosing the right videographer for your wedding day is also an important step in your wedding planning. Below are some tips that will help you find the right videographer that perfectly fits your wedding needs.
Do Your Own Research
Start researching for local vendors near your area, or where your wedding venue is. Check their sample work online and narrow down what video editing style appeals to you the most. Just like wedding photography, style is everything. Look at how the story lines are put together, what music is used, and more importantly, how did you feel while watching wedding films of people whom you don't even know. If you cry, then it's likely you just found your wedding videographer. Don't forget to check reviews and feedback about these potential vendors. It will help you a lot in deciding who to hire on your wedding day.
You can also ask around from family and friends for recommendations. You can inquire about how they work, their editing styles and their packages.
Interview Your Potential Vendor
Meeting your potential vendors can be a little challenging, especially when you don't know what to ask. Yet, it plays a huge impact whether your wedding day will go smoothly as you plan it would be. That's why this is a great opportunity for you to get to know them better. Ask them questions. Talking to them will make you feel more comfortable when you talk openly about your expectations.
Here are some questions you can ask your potential videographer to help you jump start the interview.
How long have you been in the wedding industry? How did you start working as a videographer?
Will you be working with an assistant? How many?
Are you comfortable working with other vendors, especially with the photographer?
What is your production style? Vintage? Cinematic? Documentary?
What parts of the wedding day do you cover? (Do they include cocktail hour? Table visits, etc.)
What equipment do you use? Do you have backup equipment?
What are your packages?
How is the footage recorded?
What is your estimated time of delivery?
What videos will be provided?

Recommendations and comments:
Most wedding staff work with word of mouth as ads – we have far more faith in friends' reviews than in faceless posts in news feeds. Do not forget to read reviews on the photographer's page and listening to the advice of a friend – unexpectedly not all of us are so delighted with its task.
Ask pairs with which the chosen professional served independently in addition to feedback on the web site. Most of them are keen to share information and when a photographer was nice he will be sure to be right for you, give advice, build an environment, and find an individual solution to everyone.
Form and variety:
A significant argument is that a photographer's portfolio can reflect the potential to deal with numerous weather, lighting, and location features and not just stunning but also varied. In contrast to the newly-weds, the number of photographs of décor products does not prevail. Beware of the shooting style of the photographer. It certainly must balance your sense of marriage and your general worldview. Sunny, sunny, and melancholy "streaky" taken or classic photographs impregnated with the photographer's excellent sense of humor, which suits your couple's mood and wedding expectations?
Technical machines
Be careful about what the photographer's technique is using. You can make good pictures with a basic camera. However, you can only make a good picture with specialized equipment in any light or conditions that you can not predict. The photographer wants a new set of batteries, flashcards, and a backup camera since there are no injuries at all. When you first meet, do not hesitate to inquire about the technology and the protection package.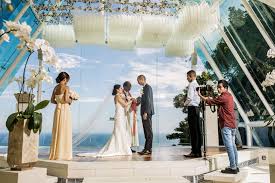 Meet Your Wedding Film Makers
Although there's often so much to organize and do while planning your wedding, try to take some time to meet with your videographer face to face. We definitely recommend meeting with any potential wedding filmmaker in person.
Given the time constraints and the hundred and one other important considerations you need to fulfill when planning your wedding, look at a brief meeting, but one in which you can get a good measure of any potential videographer candidates. This could be in the form of either a quick coffee meetup, or even a Skype/FaceTime call.
Take a look below at some important considerations to look out for when you meet with a videographer and to make sure you feel comfortable and at ease with the filmmaker you hire.
Does your wedding videographer have a good personality? – to get the best out of your budget, and your wedding video, your filmmaker needs the necessary skills to be able to produce a high-quality film. They'll need to be skilled at interacting with people and happy to work with and directing crowds too.
Do they put you at ease? – A good Videographer needs to be able to make their film subjects feel comfortable and relaxed. Your wedding day is a very highly charged atmosphere with lots of emotion from the bride and groom and guests too, so it's really important you feel at ease with any potential videographer
Are they listening to you? – If any potential videographer seems to be simply reeling off a list of prices and packages and you don't feel listened to, then maybe they aren't the right videographers for you. Your wedding is tremendously special and as individual as you, so it's important that you feel considered and any requirements or questions you have are addressed and you feel listened to.
Are they smart and professionally dressed? – your chosen videographer will be a major feature of your wedding celebrations and it's important they look smart and professionally dressed. Although they may meet you in a less formal setting such as over coffee or Skype call, make sure you pay attention to the impression they make on you with regards to their outward appearance.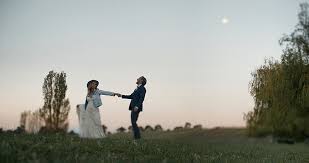 What should the Wedding Videographer know?
After choosing your wedding videographer in Italy, there are some important things you should communicate to him. This way you make sure that everything goes smoothly and that there are no problems on your wedding day.
Let's see what they are:
Provide the videographer with the details of all the contacts you found in Italy, if you have contacted a wedding planner, give the videographer his phone number.
If you feel very attached to a particular music, let the videographer know, in this way he can evaluate in advance whether to include it in the video.
It's always a good idea to provide your videographer with a title page, with all the important people you would like to see in your wedding film. That way, your videographer won't accidentally let someone out. The Mother of the Bride may not be too happy!
Let him know the dress code. Think of your wedding videographer as a guest; he or she will have to integrate seamlessly with everyone else at your reception!
Introduce the videographer to the photographer. The two will work in tandem and there is nothing more uncomfortable than a photographer and a videographer fighting for the best shots.
How to pick your wedding video style
Videography has become more and more popular over the last few years, with 51% of couples including this as a part of their wedding day. Not having a video is one of the biggest regrets couples have after their wedding day. And unfortunately, it's impossible to recreate those moments once the day has come and gone.
Once you've decided whether to have a videographer on your day, the next step is to look at the filming style. Deciding your style, how long to hire, and the right person to do it are all choices you must make.
You've likely already put thought into the style for your wedding photos, so now its time to think about your video. These two elements will go hand in hand when helping you remember and relive your day, so consistency is key. Most importantly, you want to be sure to capture your wedding day the way that you want to remember it.
Luckily there are many styles for you to choose from and most wedding videographers will give you several options, so you aren't limited in your choice. Whether you choose a full-length feature or a highlight reel, you'll find the right style to fit your needs.
Cinematic
The most popular videography choice for weddings is cinematic. 37% of couples will hire a cinematic videographer on their day.
A cinematic style will capture your wedding day in a more stylised way. Not only will it include the important parts of your day, but also the little things that add those memorable touches, like the décor, rings and any pre-wedding activities.
Think of it as more of a movie edit that will be put together with the focus being on the production of your wedding day storyline. Visuals of your vows and speeches may be overlayed with video of you posing for photos or cutting your wedding cake. These elements help create a more stylised video and give a more movie feel to your wedding. So, in years to come, you can sit down with some popcorn and enjoy looking back on your day.
If this sounds like the video style for you, chat to your videographer about what they need from you to craft your day into that movie-style. Music and voice-overs will definitely play a part.
Traditional and romantic
The second most popular videography style is traditional and romantic style, as chosen by 29% of couples. A traditional wedding video will likely capture those important parts of your day, including your vows, speeches and first dance. Often traditional styles will have minimal editing or transitions.
In saying that, while most traditional wedding videos limit editing, modern romantic and traditional wedding videos are frequently edited into a highlights package. This way, you can relive the best parts of your wedding, without including any blunders or accidents. A good videography company will have editors who can work around these!
It's becoming more common for videographers to include a wedding teaser video, which is a great way to share with your friends and family through social media. This is also more suited for friends and family, rather than having a massive viewing session. Save that for your parents!
Documentary
The third most popular wedding video style is the documentary format, with 22% of couples opting for this choice. This style is very similar to the cinematic edit, in that it will be longer and more stylised like a movie. It differs from cinematic by taking a more journalistic approach, rather than a dramatic feel. Documentaries often include interviews with the couple and their friends and family before they tie the knot. Expressing those pre-wedding jitters on camera might make you nervous, but it's a great way to capture the emotion of your day.
This style of wedding video will also go through the paces of your wedding day from the very beginning to the very end in chronological order. There will be sections focusing on getting ready, arriving at the ceremony and exchanging your vows, all the way to getting photos taken and heading into the reception.
Documentary edits are perfect for those couples who love to tell their story and want to share their feelings before the wedding. This makes watching it and reliving it all the more fun, as there are sure to be surprises and things that were said and forgotten!